AFTER 15 YEARS, L.A. GUNS, WITH PHIL LEWIS AND TRACII GUNS, REUNITE FOR 2017 ALBUM AND LIVE PERFORMANCES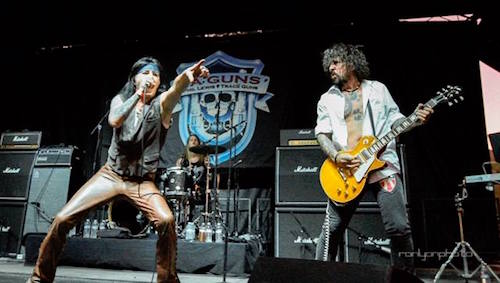 In a year that has seen reunions that were said could never happen, L.A. Guns have saved the best for last by closing out 2016 with a bombshell…band leaders Phil Lewis and Tracii Guns decided that special year end performances such as September's Hair Nation Festival in Los Angeles for thousands of fans along with their explosive set at the Cathouse 30th Anniversary show on the Sunset Strip once again sparked the unmistakable chemistry that earned L.A. Guns acclaim from their explosion onto the 80's metal scene until they went their separate ways 15 years ago.
2017 brings back the classic L.A. Guns sound that fans know and love, with Lewis and Guns not only returning to the road for their first full blown tour in over a decade but also new music for the first time since 2002. Rounding out the lineup are longtime L.A. Guns collaborators guitarist Michael Grant, bassist Johnny Martin and drummer Shane Fitzgibbon.
The new album to be released on Frontiers Records features material that brings a long awaited return to the classic formula that made L.A. Guns among the most beloved and critically acclaimed bands to rule the heyday of Metal, and the select 2016 live shows have proven that the upcoming tour will feature Lewis, Guns and the rest of the band delivering the smash hits such as The Ballad of Jayne, Rip and Tear, No Mercy, Never Enough plus many more performed the way they are supposed to be and by the key songwriters themselves.
"When you put Phil and I together, that's the sound of L.A. Guns. There's no way around that!" says Tracii Guns regarding the reunion. " Phil Lewis and Tracii Guns, the band's gotta be L.A. Guns. It can't be anything else."
Phil Lewis adds "I want to say thank you, thank you, thank you from the bottom of my heart. What's the point of making records or playing shows if you don't have fans for feedback, and I feel blessed to have so many cool people who treasure the music as much as I do as a part of our fan base."
Confirmed 2017 dates (more TBA):
January:
28 Corona, CA M-15
February:
9 Seattle, WA Studio Seven
10 Portland, OR Rock Hard PDX
11 Lewiston, ID 3rd Wheel Concert Hall
17 Salt Lake City, UT Liquid Joe's
18 Denver, CO Herman's Hideaway
23 Houston, TX Proof Bar
25 Reno, NV RockBar Theater
March:
3 W Hollywood, CA Whisky A Go-Go
4 W Hollywood, CA Whisky A Go-Go
UK Dates:
March:
10 Belfast, Ireland Limelight 2
11 Pwllheli, Wales Hard Rock Hell Festival @ Mor Holiday Park
12 Swansea, Wales Scene Club
14 Norwich, UK The Waterfront
15 Buckley/Flintshire, Wales The Tivoli Venue
16 Bristol, UK Bristol Bierkeller
18 West Midlands, UK Wolverhampton Civic Hall
19 Chester, UK Live Rooms
20 Doncaster, UK Diamond Live
22 Sheffield, UK 02 Academy Sheffield
24 Glasgow, UK 02 ABC Glasgow
25 London, UK 02 Academy Islington
Additional US Dates:
April:
8 Santa Ana, CA Yost Theater
22 Wantagh, L.I., NY Mulcahy's
August:
11 Three Forks, MT Rockin' The Rivers Music Festival
October:
28 Pekin, IL Rock N Skull @ Avantis Dome
This statement comes on the heels of singer Phil Lewis' announcement, a week ago, that he was leaving the Steven Riley version of L.A. Guns.