AEROSMITH'S TYLER AND PERRY DISCUSS MUSIC HONORS AND CO-HEADLINING WITH VAN HALEN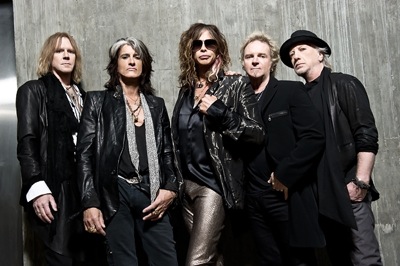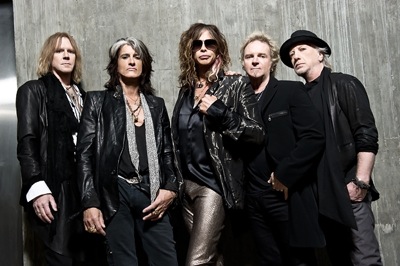 Steve Baltin of Rolling Stone spoke with Aerosmith frontman Steven Tyler and guitarist Joe Perry about their induction into the Songwriting Hall of Fame and their co-headlining tour in Australia with Van Halen. Read the entire interview below.
Rolling Stone: Awards offer an opportunity to reflect. When you look back, which moments stand out?
Steven Tyler: We come from an era when Sweet Emotion and Back In The Saddle were considered dark and we weren't accepted. We were just a B-side album band. We were never a singles band. Then the Eighties came along with Dude (Looks Like A Lady). I listen to that now and I think, "What?" It's fun to hear, kind of like Wooly Bully, but were we trying too hard to be a singles band? It doesn't fucking matter. We've been strung out and sober. We've sold in and we've sold out. Some days we didn't even sell at all. What matters is we're still together as a band.
Joe Perry: One of the things that really hits the nail on the head is the time Steven and I got a phone call from our manager telling us we went to number one with I Don't Want To Miss A Thing. That was our first number one single. We looked at each other and said, "Holy shit! That's great, but I thought for sure we had a number one in there somewhere." And then we just put the phone down and went back to what we were doing. We've been such a live band for so many years, the only time I remember thinking, "Wow, we've got something," is when we aimed for something that would carry the day live. 'Cause that's what we do – we're here to entertain the crowd.
Rolling Stone: You mentioned being a B-sides band. Does that mean songwriting awards carry an extra special weight for you?
Steven Tyler: They feel really good. But we've always just played our music and haven't given a shit. Still, the "Cheap imitation of the Rolling Stones" criticism was constant. And it hurt for the first couple of years. It was constantly Mick Jagger this and Mick Jagger that – that I copied him, and Janis Joplin too. Mick was the cheapest, easiest shot. "Well, he looks like him, so let's write about that."
Joe Perry: You could tell that they weren't listening, because we definitely weren't sounding like the Stones.
Steven Tyler: Done our best to try to, though.
Joe Perry: We steal from everybody. Amateurs copy and pros steal, and we're professionals. We make no bones about the fact that we took from the people that came before us.
Rolling Stone: Many bands that take a break, whether forced to or by choice, come back feeling rejuvenated. Has that ever been the case for you?
Steven Tyler: We've never been apart longer than two years. I've watched that premise with everybody else, though – just recently my dear friend Mick Fleetwood got back together with his guys after five years. We've toured when there were no albums, when management said, "you're not gonna make any money," but we did.
Joe Perry: I've seen bands split up for five years and do nothing. That sounds great to me, but it just hasn't worked out that way. We joined this club for better and for worse – made a deal with the devil and haven't been able to get out of it. But we've been lucky enough to fall back on each other. If a couple of guys aren't working right, the others pull it back together. It's always worked like that.
Rolling Stone: Are you looking forward to playing with Van Halen? Who else is on your bucket list?
Joe Perry: I'm really looking forward to it. There's been talk about us co-headlining for years. But they're one of those bands that do a cycle then split, so it's been really hard.
Steven Tyler: I would take a pay cut to play with AC/DC. It's one of my last things to do, go on tour with them. I don't really care about the money, and I don't care about some great review. It's more about the fans – it's always been about them.
source: rollingstone.com