AEROSMITH'S STEVEN TYLER TALKS ABOUT "ROCK FOR THE RISING SUN"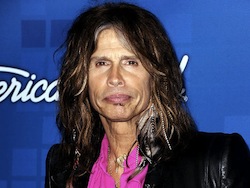 Gary Graff of Billboard reports:
A bit of band discord indirectly led to a new document of one of Aerosmith's shining moments.
Frontman Steven Tyler tells Billboard that he initially brought Casey Patrick Tebo — who directed the forthcoming documentary Rock For the Rising Sun— into the Aerosmith camp about four years ago, during a particularly turbulent period in the group's history. "There was a lot of shit going on at one point with the band," Tyler explains, "and I got really pissed off and I thought, 'I need to start filming a day in the life of myself on tour.' So I brought (Tebo) out about four years ago, and he did such a great job he started doing the (video) screens and he started being our videographer on tour."
"The band was getting along better than ever," he says. "We'd just broken up for crazy fucking reasons, and I went away to get my head straight again. We booked a tour, South America first and we took it to Japan, and…It's funny that it took that for the band to realize how important we are to each other and how fuckin' good of a band we are and what a fuckin' good time we have on stage that is infectious and gets people happy. We were just all in such a bad place that we didn't realize our self-worth. I took going to Japan and playing those shows for the band to realize its own magic again. Somewhere along the line there it got the band happy again, and we thought, 'Holy shit, we gotta do a fucking record right now!' So, yeah, that tour helped us to a new album."
Read more at Billboard.