TRAILER FOR AEROSMITH'S "ROCK FOR THE RISING SUN" POSTED ONLINE. DVD, BLU-RAY AND DIGITAL VIDEO TO BE RELEASED ON JULY 23RD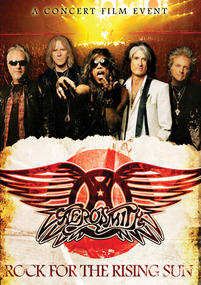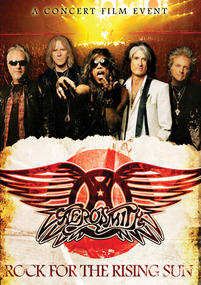 On July 23rd, 2013, Eagle Rock Entertainment will release Rock For The Rising Sun by Aerosmith. This is a simultaneous release on DVD, Blu-ray and digital formats [Pre-book Order Date June 28th, MSRP $19.98 Blu-ray, $14.98 DVD].
This is the band's first live video release in 9 years, since the release of You Gotta Move in 2004 and it offers a unique portrayal of life on the road with Aerosmith combined with superb live performances, as the band toured Japan. Rock For The Rising Sun features the classic tracks: Love In An Elevator, Livin' On The EdgeLast Child, Walk This Way, Draw The Line, Sweet Emotion, Hangman Jury, and many more, with material drawn from shows throughout this tour. As bonuses, the DVD includes extra live tracks, Lick And A Promise recorded at the Hiroshima Green Garden Arena and One Way Street taken from the Tokyo Dome.
In March 2011, Japan was beset by a huge earthquake, a monstrous tsunami and the subsequent meltdown of the Fukushima nuclear plant. In the autumn of 2011, despite advice to the contrary, Aerosmith brought their Back On The Road tour to Japan, a country with which they'd always had a special relationship. The Japanese fans came out in droves and Aerosmith responded with some of the finest shows of their distinguished career. This film follows the band on that tour combining full-length live tracks with behind the scenes footage, which is at times touching and emotional and at others humorous and insightful. More than anything else it demonstrates the Japanese fans' love affair with Aerosmith and their music.
Aerosmith are truly one of the great rock acts of all time and this incredible concert film brings together tracks from across their storied career. A live band par excellence, Rock For The Rising Sun shows them rolling up their sleeves and doing what they do better than anyone else.
Rock For The Rising Sun track listing:
1) Draw The Line
2) Love In An Elevator
3) Livin' On The Edge
4) Hangman Jury
5) No More No More
6) Mama Kin
7) Monkey On My Back
8) Toys In The Attic
9) Listen To The Thunder
10) Sweet Emotion
11) Boogie Man
12) Rats In The Cellar
13) Movin' Out
14) Last Child
15) S.O.S. (Too Bad)
16) Walk This Way
17) Train Kept A Rollin' (credits)
Watch a trailer for Rock For The Rising Sun below.