ZZ TOP BASSIST DUSTY HILL PASSES AT AGE 72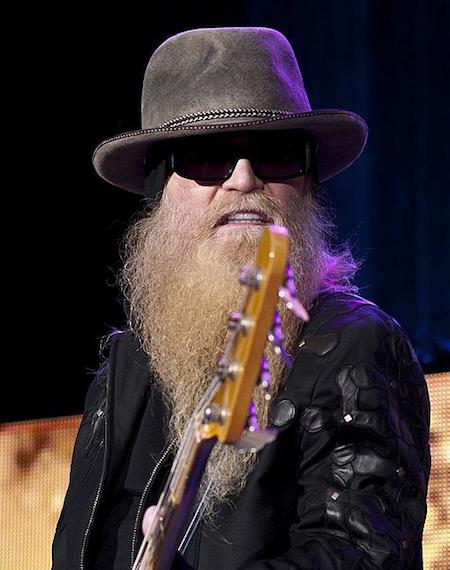 ZZ Top's longtime bassist Dusty Hill has died. He was 72 years old.
The band's Billy Gibbons and Frank Beard wrote in a statement, "We are saddened by the news today that our Compadre, Dusty Hill, has passed away in his sleep at home in Houston, TX. We, along with legions of ZZ Top fans around the world, will miss your steadfast presence, your good nature and enduring commitment to providing that monumental bottom to the 'Top'. We will forever be connected to that 'Blues Shuffle in C.' You will be missed greatly, amigo."
Gibbons also tweeted to Eddie's Twitter account, "As Dusty said upon his departure, "Let the show go on!". and…with respect, we'll do well to get beyond this and honor his wishes. Dusty emphatically grabbed my arm and said, "Give Elwood the bottom end and take it to the Top". He meant it, amigo. He really did.:
Hill was a longtime member of the Texas blues rock group for over 50 years. No cause of death was given.
Hill had been dealing with a health concern related to a hip issue as recently as Friday, the band revealed, adding that they were awaiting "a speedy recovery" and hoping to "have him back pronto." Earlier this month, Gibbons and Beard played their first performances without Hill in more than 50 years…"Per Dusty's request the show must go on!," the statement continued, and the band's longtime guitar tech, Elwood Francis, filled in.
Hill was born in Dallas in 1949 and played cello in high school, which made for an easy transition to electric bass. He, his guitarist brother Rocky and future fellow ZZ Top bandmate Frank Beard, a drummer, played in local bands such as the Warlocks, the Cellar Dwellers and American Blues, working the same Texas touring circuits as ace guitarist Billy Gibbons' band, the Moving Sidewalks.
The brothers parted company in 1968 over musical differences, and Hill and Beard moved to Houston, where they eventually united with Gibbons in ZZ Top. Gibbons had formed the band in 1969 and recorded a one-off independent single produced by manager Bill Ham, who would remain with them for decades. The act's original bassist introduced the guitarist to Beard; Hill would join Gibbons and Beard for a gig in Beaumont, TX, on Feb. 10th, 1970. The lineup remained the same for more than five decades: They celebrated their 50th anniversary at a San Antonio concert in February 2020.
Launched on London Records in 1971, the Houston-bred threesome secured its first major hit with the No. 8 LP "Tres Hombres" in 1973; the set included the raunchy single "La Grange," a homage to the Chicken Ranch, the notorious bordello in the like-named Texas city…but it was 1983's Eliminator, that really brought the band success with hit songs Gimme All Your Lovin', Sharp Dressed Man and Legs and their accompanying featuring classic cars.
The band was inducted into the Rock and Roll Hall of Fame in 2004.