ZAKK WYLDE ON BLS' FORTHCOMING ALBUM "GRIMMEST HITS,"YOU SHOOT LOW, SO [WHEN] PEOPLE GO, 'THIS IS HORRENDOUS,' YOU GO, 'WELL, I TOLD YOU GOING IN.'"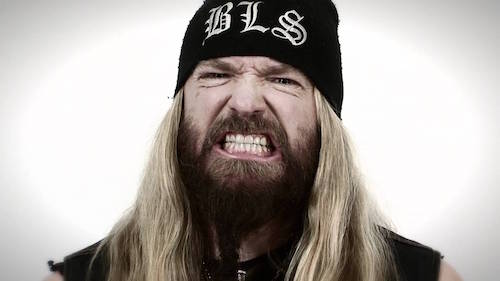 Guitarist Zakk Wylde was a recent guest on SiriusXM's The Jenny McCarthy Show. A few highlights are posted below (as transcribed by Blabbermouth.net.
Discussing the last time he was clean-shaven:
Zakk: "Probably after I did that Rock Star movie. I had to shave every day when we did the movie, but at the end of the movie, they did this thing of, 'Where are they now?' I had this big beard I had to wear — just, pretty much like what I got now. I remember doing it, and I just go, because I had to put it on every day for the scenes, I was, like, looking at myself and I go, 'I look like a complete jackass with this thing on. I'm definitely going to grow this out once this movie's over.'"
On Black Label Society's new album, Grimmest Hits:
Zakk: "The lyrics are grim, and there are no hits. People ask me, 'Is this a greatest-hits record?' I go, 'No. In order to have a greatest-hits record, you've had to have hits.' We don't have any hits, so therefore, it can't be. But you shoot low, so this way, if people listen and go, 'This is horrendous,' you go, 'Well, I told you going in.'"
Talking about his memories of joining Ozzy Osbourne's band:
Zakk: "I was 19 — right before I turned 20. That's when my drinking problem began. I drank until then, and then it was just double-fisting from that point on. When I first started with [Ozzy], I remember Sharon [Osbourne] — who I lovingly refer to as Mom, because she's been, like, my mom since I was 19 years old — she called [Zakk's wife] Barbaranne up and goes, 'Excuse me, Barbaranne…' I would be the only one that would hang out with Ozz, because everyone else was, like, 'I don't want to get stuck in the web and get, you know, canned over here because I'm the one enabling him.' But I would always hang out with him, because I was just like, 'Man, how come nobody wants to hang out with Ozzy?' Then they go, 'Jackass, you must be a rookie, and you have no idea what's going on around here.' So anyway, I'd hang out with [Ozzy] all the time and we'd be drinking, but the whole thing is, she'd go, 'Barbaranne, does Zakk have a drinking problem?' [Barb] goes, 'Oh, no, no. He drinks milk.' [Sharon] goes, 'Not anymore, he doesn't.' A lot of my friends went to college, and I went to Ozzy Osbourne University, which was like Animal House on steroids."
Discussing sneaking Ozzy beer while on tour:
Zakk: "That was the best. That wasn't that long ago — that's when we were doing Live At Budokan. Ozzy's like, 'Zakk, you got any beers?' I'd always have them in my backpack. I go, 'What, are you trying to get us both fired?' I was like, 'I'll meet you in the bathroom.' I kid you not — I'm in the bathroom, then he goes in. I was in the bathroom stall and I heard him come in. He was right next to me, shut the door and goes, 'Okay, Zakk.' I just slid it over. I hear him crack open a can of Sapporo and then just guzzle it down, and then [he] sneaks and just pushes the empty can back to me, so I can throw it in the garbage as responsible booze-hounds."
On what makes a Black Label Society fan a "berserker":
Zakk: "That's [how] we lovingly refer to our Black Label family, if you're a berserker. It's an all-or-nothing mentality — either you're all in, or you ain't, so you live like a berserker. Whether you're fondling the genitalia or whether you're going to learn how to play the guitar or whether you're going to have a tomato garden outside, it's all-in — it's all-in or nothing."
Speaking about Ozzy Osbourne's farewell tour:
Zakk: "The game plan is to go out on this one. It's great being with [Ozzy] again. It's hysterical as always. We go out for this thing until 2020, and then we start the Bad Investment Tour. Basically, the whole reason why we're touring right now is because Ozz told me, 'Everything you've got, everything you've made since you started with me, put it all down on Conor McGregor to win this fight against Mayweather. He did, and I did — and that's the reason why we're getting back together to do this tour. We're broke — we both live in a box down by the river. Hopefully he'll get better advice from 2020 onward."
Watch Zakk's entire interview below.
Black Label Society's Grimmest Hits, will be released on January 19th, 2018 through Entertainment One (eOne).