WENDY DIO AND JEFF PEZZUTI DISCUSS RONNIE JAMES DIO'S HOLOGRAM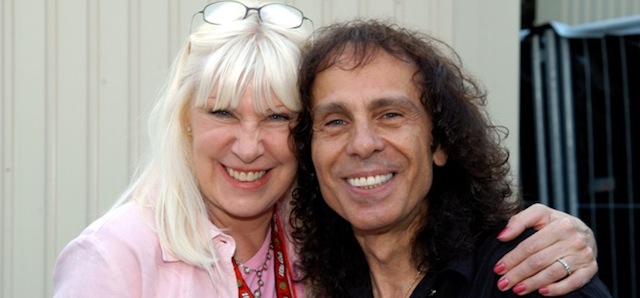 Sari Cohen of AXS spoke with Wendy Dio and Jeff Pezzuti, the CEO of Eyellusion, about Ronnie James Dio's hologram.
AXS: Jeff, tell me about Eyellusion and what your mission is with the company?
Jeff Pezzuti: Eyellusion is the only hologram entertainment company solely focused on the live music market. We address full end-to-end hologram production needs, from streaming of live or pre-recorded shows to full digital re-creation of artists who have passed away. We're working with an expanding roster of artists to help open up new revenue streams, expand touring capabilities and meeting fan demand. The Eyellusion team brings decades of global music industry and live touring experience, combining deep expertise with cutting-edge production and hologram display capabilities. Eyellusion's mission is to ensure legacies and music giants of today get passed to the next generation. With the uncertainty of the current radio format, creating a new revenue stream for artists will allow more people to see their favorite artists, in any genre, in a live setting.
AXS: Tell me about your journey so far?
JP: Our debut production was the Ronnie James Dio hologram performing at Wacken 2016 with the Dio band, consisting of the guys he played with the last 17 years. We're in production on a full Ronnie James Dio hologram tour that will play worldwide starting later this year. Beyond our work on the Ronnie James Dio hologram, we are in serious talks and contract negotiations with many other major artists and management and hope to have more to share on that front in the near future.
AXS: Can you tell me how you and Wendy came together and how your individual strengths make you such a great team?
JP: We're huge Ronnie James Dio fans at Eyellusion. I reached out to Wendy to discuss our idea about putting Ronnie back onstage via hologram, in a way that would really honor his music. I flew to L.A. to meet with her at her office – she was on board almost right away – and the rest is history. Wendy and I complement each other well. Another key member of our team is Todd Singerman of Singerman Entertainment. He's been a huge asset to the company.
AXS: Wendy, can you share with me what this whole experience has meant to you? What do you hope fans and future fans can take away from the hologram experience?
Wendy Dio: This is an amazing experience, for the fans who knew and loved Ronnie and for the ones that never got a chance to see him in a live concert. Ronnie is back on stage with the Dio Band, keeping his music and his memory alive.
AXS: What's the latest news on the upcoming tour?
JP: The tour is currently being routed and we are hoping to make an announcement for an end of year kickoff in the coming months. This is not just about the U.S. It is truly a world tour. Ronnie's fans are spread around the world and we intend to bring this exciting show to as many as we can. The show will not only feature Ronnie and his band but also live singers like Tim "Ripper" Owens [Judas Priest] and others to complete the overall show vision. The show will feature effects and stage design that Ronnie made famous in the '80s and will also incorporate new technology into what will be some pretty awesome special effects. It will be a fun experience for all ages, and a way to experience the incredible catalog [Rainbow/Black Sabbath/Dio] that Ronnie made famous. We will feature both the expected songs, as well as some crowd favorites that will be surprises.
Read more at AXS.
source: axs.com