WITH "HYSTERIA" CELEBRATING ITS 35TH ANNIVERSARY, DEF LEPPARD'S JOE ELLIOTT AND PHIL COLLEN, REFLECT ON THE MAKING OF THE ALBUM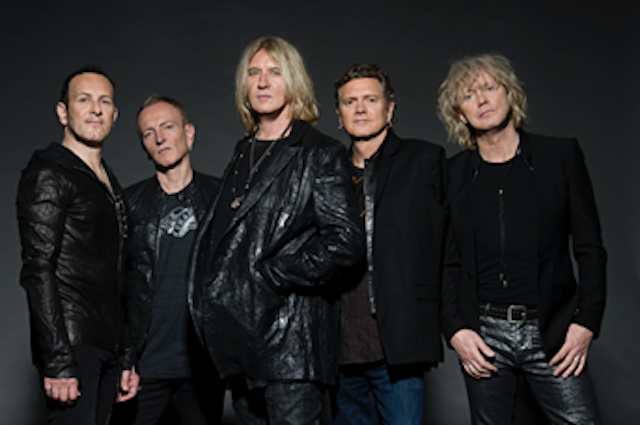 Greg Prato of Heavy Consequence reports:
There have been a handful of highly-anticipated albums by renowned rock artists that took a long time to see the light of day. One of those that proved to be truly worth the wait (from both a commercial and artistic standpoint) was Def Leppard's fourth album overall, Hysteria – selling 12 million copies in the US alone, topping the Billboard 200, and spawning six Top 20 singles.
Several reasons can be pointed to for the four-year lag between Hysteria and its predecessor, Pyromania – among them, the album's original producer not working out; having to wait for their preferred producer to become available; and most seriously, having to overcome a horrific accident to one of the band members…
When the tour in support of Pyromania wound down in February of 1984, work soon began on a follow-up. However, with Lange not available at the time, Def Leppard opted to enlist Jim Steinman — best known for writing Meat Loaf's classic Bat Out of Hell album — as the producer of "album number four" Things didn't go so well. "It was a mismatch, sadly," recalled [frontman] Joe Elliott in the exclusive video interview with Heavy Consequence. "He's great at what he does, but we weren't one of the artists that it was ever going to work with."
"It didn't work at all," added [guitarist Phil] Collen in the same interview. "[The songs] just sounded terrible. He didn't really get how we were working. It just sounded ordinary and flat. It wasn't until [producer] Mutt [Lange] came back into the fold that they started coming alive, really. Some of the songs we wrote with Mutt initially we tried to record with Jim Steinman, and they just didn't sound as good as the demos. So it was like, 'This is not working'…"
Lange finally reunited with the band and resumed production duties, and Collen recalled some important advice the producer offered to the band, "Don't do Pyromania Part II. As successful as that was, everyone else is copying that." The group did heed the advice, and focused on a more electronic and sonically layered approach than their previous efforts…
However, what people tend to forget looking back on Hysteria was that it was not an instant massive hit upon its August 3rd, 1987 release — as evidenced by the underwhelming chart performance of its first single/video, Women, which peaked at only #80 on the Billboard Hot 100.
But to the band's credit, they knew they had a bona fide smash hit single up their sleeve with Pour Some Sugar on Me…"
And the move paid off — MTV placed the video for Pour Some Sugar on Me in brainwash rotation, and the single nearly topped the Billboard Hot 100 (peaking at #2) and went gold in both the US and UK. As a result, the album's success also led to strong ticket sales for the arena tour, which saw the group perform "in the round…" 
…It would appear as though Def Leppard had finally put all their hard times behind them with the impressive comeback/mega-success of Hysteria. But behind the scenes, [guitarist Steve] Clark was struggling with alcoholism and substance abuse — which seemed to exacerbate after the album's tour wrapped up in late 1988. Despite the band encouraging the guitarist to seek help, he was found dead on January 8th, 1991 in his apartment in Chelsea, from a mixture of alcohol of prescription drugs. Clark was only 30 years old.
"It comes down to the individual," Collen said about his bandmate's passing. "Yeah, you can get help…he was actually getting help, as well. And as we were going along, we were understanding a bit more about the whole thing. I was able to stop drinking…it's been 34 years or something like that since I stopped."
"It's a personality issue more than anything else," added Elliott. "With all the tools that we've got now that we didn't have 30 years ago, there are still people falling the same way Steve did – exactly the same way. I don't know whether it's an inner-strength thing or whether it's because of your DNA that you physically cannot shake certain aspects of addiction." The band would continue on with former Dio/Whitesnake guitarist Vivian Campbell taking Clark's place, and that lineup remains intact to this day.
35 years later, Collen still holds Hysteria as a high-water mark for Def Leppard. "It's the most successful album of our career, obviously. Our biggest seller. And I think artistically, it cemented something. You heard so many other bands and artists copy that kind of sound – and inspire other people, as well. We get that. And we wanted to make something very different when we were doing it."
Read more, and watch the full interview with Joe Elliott, and Phil Collen, at Heavy Consequence.