WINGER POSTS ALL STAR VIDEO FOR "BETTER DAYS COMIN'"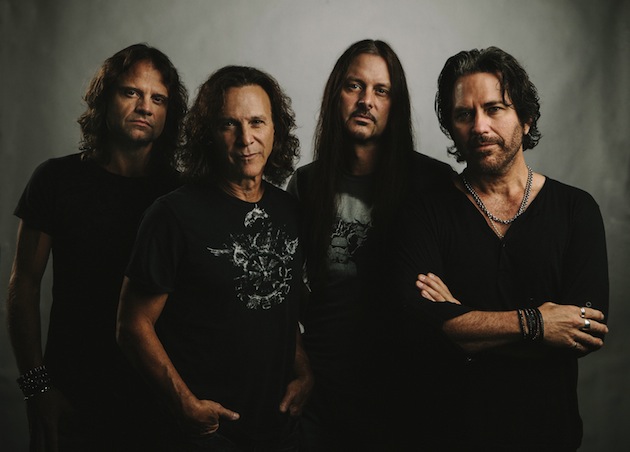 Winger has posted an all star version of the song Better Days Comin'. Watch the video by clicking here.
The band has listed the artists in order of appearance as:

Chip Znuff – Enuff Znuff
Mark Farner – Grand Funk Railroad
Jeff Scott Soto – Sons of Apollo / Queen
Tony Harnell – TNT
George Gakis
Mark Hudson
Miljenko Matijevic – Steelheart
Alice Cooper
Klaus Meine – Scorpions
Robert Mason – Warrant
Richie Kotzen – Winery Dogs
Terry Ilous – XYZ
Don Crash – H.E.A.T.
Alan Parsons – Alan Parsons Project
Danny Vaughn – Tyketto
Michael Starr – Steel Panther
Fiona Flanagan
Steve Postell – Immediate Family
Eddie Trunk
Cenk Eroglu
Steve Whiteman – KIX
Howie Simon – Nelson / Scrap Metal / Winger / Stryper
PJ Griffith – Rock Of Ages (Broadway)
Kenny Leckremo – H.E.A.T.
Better Days Comin' appeared on the album of the same title, which was released on April 22nd, 2014 through Frontiers Records.
The notorious band comprised of members Kip Winger on vocals/bass, Reb Beach on guitar, John Roth on guitar and Rod Morgenstein on drums, are back with their latest album. The album is available for pre-order on Amazon.com in a standard and deluxe configuration. The deluxe edition comes in a glossy digipak and includes the bonus track Another Beautiful Day and a DVD including a "Making of the Album" documentary as well as videos for the first single Rat Race and title track Better Days Comin'. An iTunes pre-order will be available soon. The band has always been known for their incredible musicianship and the trend continues on Better Days Comin'.
"On Better Days Comin' we drew from our past to elaborate on our future. The band is stronger than ever and very excited about the music on this record," explains front man Kip Winger. "We feel this album exemplifies the true sound of the band in every way."
From the opening riff of album opener Midnight Driver of a Love Machine to the final outro lick of Out Of This World, it is clear Winger is back and better than ever. Hard rocking songs like Queen Babylon, progressive rock movements like Tin Soldier, and touching ballads like Ever Wonder show the band's diversity while always centering on great songs. The debut single from Better Days Comin' is the adrenaline fueled rocker Rat Race that showcases some of the band's best work of their 25 year career.
Better Days Comin' track listing is:
1) Midnight Driver of a Love Machine
2) Queen Babylon
3) Rat Race
4) Better Days Comin'
5) Tin Soldier
6) Ever Wonder
7) So Long China
8) Storm In Me
9) Be Who You Are, Now
10) Another Beautiful Day (Deluxe Edition Bonus Track)
11) Out Of This World
Winger formed in the late 1980's and soared to immediate success with their 1988 self-titled release. The album spawned the hit singles Seventeen and Headed For A Heartbreak and achieved platinum sales status. Winger also stayed on the Billboard Top 200 chart for over 60 weeks where it peaked at number 21. Their next album, In The Heart Of The Young, also achieved platinum status behind the singles Can't Get Enuffand Miles Away. The change in musical climate of the mid-90's, compounded with unprovoked ridicule on MTV's popular Beavis and Butthead, led the band to go on hiatus in 1994. In 2001, the band reunited and have not looked back since. Winger has made a name for themselves with relentless touring, while winning back fans and critics alike because of their exceptional musicianship, Kip Winger's powerful vocals and the band's incredible songwriting.
For more information, please visit wingertheband.com.