WINERY DOGS DRUMMER MIKE PORTNOY ON GUITARIST/VOCALIST RICHIE KOTZEN: "HE'S AN UNBELIEVABLE TALENT"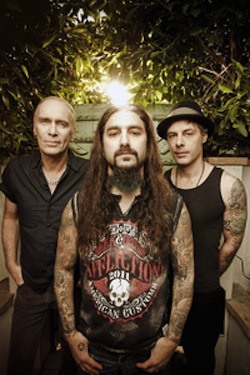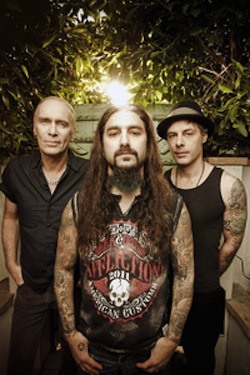 Brian Aberback of NorthJersey.com
After playing with several bands in recent years, former Dream Theater drummer Mike Portnoy has found a permanent home with The Winery Dogs.
"At this point in my career I've been doing lots of different things with lots of different people and I've definitely been looking for the right group of guys," Portnoy said by phone. "The Winery Dogs is fulfilling, enriching and inspiring. There's incredible potential for the future."
The Winery Dogs also include bassist Billy Sheehan (Talas, David Lee Roth, Steve Vai, Mr. Big) and guitarist-singer Richie Kotzen (Poison, Mr. Big), and they perform on Wednesday in Englewood. The band released its self-titled debut album last year.
At first glance The Winery Dogs appear to be a virtuoso supergroup. The band members have been praised for their technical wizardry and won dozens of critic and fan awards from musician magazines. But Portnoy said The Winery Dogs are more concerned with writing solid songs than fretboard and drumming acrobatics.
"Stylistically it's the first thing I've ever done that's not rooted in metal or prog-rock," said Portnoy, a Long Island native. "The Winery Dogs are a straight-up rock band, a song-and-vocal-oriented band, and it's refreshing. You can listen to it for the songs or the musicianship or both. There's a great balance."
The band's debut album's many standout tracks include the driving "Elevate," the soulful "You Saved Me" and the groove-laden "Not Hopeless." The disc hit No. 27 on the Billboard 200 albums chart. This month the album was re-released in two formats: with a bonus live CD and with a live CD and DVD.
The Winery Dogs also marks the first time that some fans are hearing Kotzen on lead vocals. While he has sung on his solo records, Kotzen was not the singer in Poison or Mr. Big.
"People had no idea Richie could sing the way he does," Portnoy said. "He's an unbelievable talent. It was the best-kept secret of the band."
Portnoy had known Sheehan for more than 20 years when the two began working on a project in 2012. Radio personality Eddie Trunk suggested that Portnoy and Sheehan call Kotzen to round out the band.
The Winery Dogs are Portnoy's first trio. He said the arrangement has advantages on and offstage. "There's so much space sonically," he said. "Personally it's such a different dynamic too. Everything is so much easier with only two other people, from having more space on the tour bus and in the dressing room to making musical decisions."
In 1985, Portnoy co-founded highly popular prog-rockers Dream Theater. He played on 10 studio albums and several live records before leaving the band in 2010. Before forming The Winery Dogs, Portnoy played with modern and traditional metalers Avenged Sevenfold and Adrenaline Mob, respectively. In addition, he plays in several side projects, including Transatlantic with singer-keyboardist Neal Morse, and Portnoy-Sheehan-McAlpine-Sherinian, which includes guitarist Tony McAlpine and ex-Dream Theater keyboardist Derek Sherinian.
Portnoy said The Winery Dogs will spend the spring and summer on tour before taking a break. "We plan on regrouping around Christmas or New Year's to make album number two and continue to introduce the world to The Dogs," he said.
source: northjersey.com