WHITESNAKE'S "SLIP OF THE TONGUE" LINE-UP REUNITES ONLINE FOR VIRTUAL DISCUSSION, VIDEO POSTED ONLINE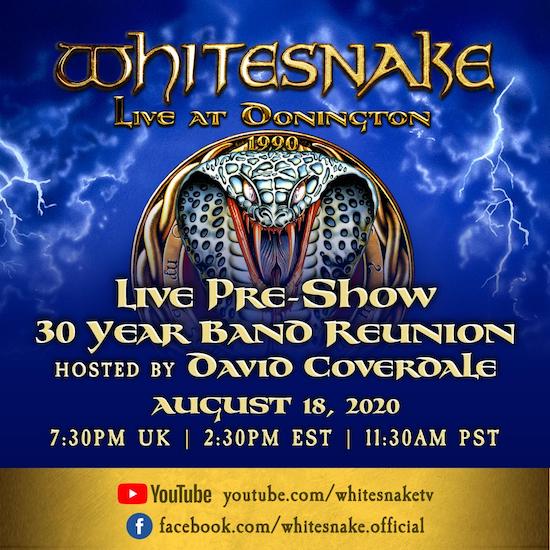 As previously reported, on August 18th, Whitesnake members: David Coverdale, guitarist Adrian Vandenberg, guitarist Steve Vai, bassist Rudy Sarzo and drummer Tommy Aldridge, reunited online for a question-and-answer session prior to a live stream of the band's legendary Live At Donington on the band's YouTube channel.  Watch the zoom reunion below.
In an interview with Guitar World, on April 7th, guitarist Vai recounted his time with the band.
"David was a prince! He had a lot of confidence in me and basically knew he needed to just let me do my thing. David knew what I was capable of and didn't really interfere with what I wanted to do. I just did it, and if there was something he didn't like I was happy to change it because it was his thing. Working with David was great and there was something in his phrasing as a singer that I just adored…."
When asked about not staying [completely] true to Whitesnake's old signature sound? Vai said, ""You have to find a balance between what's expected of you from the band, what the fans are expecting, what the song requires and is telling you to do – and also being true to your own voice. I had no choice but to express my own voice because that's all I know."
He continued, ""If I had tried to sound like Yngwie [Malmsteen] when I had joined Alcatrazz, it just wouldn't have worked because I'm very satisfied with the way I play, but I also can't play like Yngwie. It was the same thing when I was playing with Dave [David Lee] Roth; I needed to deliver in a rock context – which was very natural to me – but I'm not going to compete with Edward Van Halen!…
…The foundation of Whitesnake's sound was rooted in rock blues, and there's a whole culture that emanated from Europe in that traditional solid rock blues guitar playing that had a real authenticity to it.Michael Schenker, Uli Jon Roth, Adrian Vandenberg, Ritchie Blackmore, Jimmy Page – that was the sound all Whitesnake records had been built upon. But Whitesnake had gone through different permutations of guitar sounds throughout the years, and the previous one to me was John Sykes, and he absolutely had his own sound. 
Sykes didn't sound like any other previous Whitesnake guitarist, but his thumbprint is an indelible part of the Whitesnake record he did. The fatness of that record and the rock integrity it had was all Sykes. So I knew I wasn't going to sound like Sykes and I wasn't going to try to.
You cheat yourself when you try to do that and play like someone else. And the audience is a lot smarter than you think; they're very intuitive and perceptive and if you try to pull anything over on them – like biting someone else's thing – you'll get beat up for it."
Read all of Vai's interview with Guitar World, here.