WHITESNAKE RELEASE OFFICIAL VIDEO FOR "TROUBLE IS YOUR MIDDLE NAME"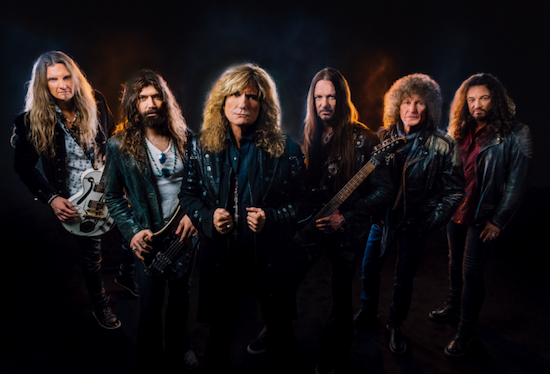 Whitesnake had previously streamed the song, Trouble Is Your Middle Name, from their album Flesh & Blood, which was released on May 10th through through Frontiers Music Srl. Now, the band has released an official video, which can be viewed below.
To a watch the video for, Shut Up and Kiss Me, please click here.
Flesh & Blood will be released in multiple formats. See below for full details.

+CD (Jewel Case)
+CD+DVD Deluxe Edition (Digipak) – Includes two studio bonus tracks on CD. DVD includes "Shut Up & Kiss Me" (classic jag version) (VIDEOCLIP), "Shut Up & Kiss Me" (club mix version) (VIDEOCLIP), Behind the Scenes of 'Flesh & Blood' VIDEO + 3 DVD Audio Tracks (Remixes of album tracks)
+Super Luxury Boxset – Includes CD+DVD Deluxe Edition, 2xLP Standard Color LP, Poster, Numbered Lithograph, Box Set
+2xLP – Black, 180g, Gatefold (Worldwide)
+2xLP – Silver, 180g, Gatefold (Frontiers' U.S. Store Exclusive) – Limited to 300 Copies
+2xLP – Gold, 180g, Gatefold (Frontiers' UK Store Exclusive) – Limited to 500 Copies
+2xLP – Red, 180g, Gatefold (Frontiers' EU Store Exclusive) – Limited to 350 Copies
Tracklist CD / 2xLP:

1. Good To See You Again
2. Gonna Be Alright
3. Shut Up & Kiss Me
4. Hey You (You Make Me Rock)
5. Always & Forever
6. When I Think Of You (Color Me Blue)
7. Trouble Is Your Middle Name
8. Flesh & Blood
9. Well I Never
10. Heart Of Stone
11. Get Up
12. After All
13. Sands Of Time

Bonus Tracks Appearing on CD+DVD Deluxe Edition and Digital Version:

14. Can't Do Right For Doing Wrong (Bonus Track – New Studio Song)
15. If I Can't Have You (Bonus Track – New Studio Song)
16. Gonna Be Alright (X-Tendo Mix) – DVD Audio Track
17. Sands Of Time (Radio Mix) – DVD Audio Track
18. Shut Up And Kiss Me (Video Mix) – DVD Audio Track