WHITESNAKE FRONTMAN DAVID COVERDALE ON FORMER GUITARIST JOHN SYKES, "OUR MUSICAL CHEMISTRY WAS GREAT, BUT IT DIDN'T WORK PERSONALLY"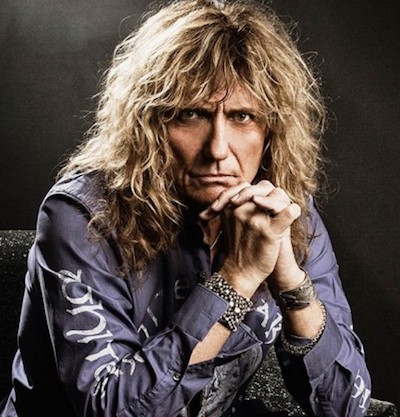 Andrew Daly of Metal Edge spoke with Whitesnake frontman David Coverdale, highlights from the interview appear below.
Metal Edge: I think that when people think of the sound of Whitesnake, they often look back to the '87 self-titled record. Do you feel that record defines you?
David Coverdale: I've never had a problem with identity. When that record came out, many British critics said, "Whitesnake has gone American." And I thought, "It's music, for Christ's sake," you know? I hated seeing Whitesnake lumped in with anything because some of my good friends are truly great metal artists. These types of comparisons are meaningless to me. No matter what it is, everything that I do is blood, sweat, tears, passion, and sex. At the core of Whitesnake, those are the elements on which this is built.
Metal Edge: So, what does define you?
David Coverdale: Number one: you've got my voice. Boom, that's it. That's the running context that you get right from the get-go. And the truth is, I was able to find my voice with Whitesnake in ways that I never could with Deep Purple. Of course, I learned a great deal through three albums I recorded with Deep Purple and received an incredible education from Professor Ritchie Blackmore and Professor John Lord. But the circumstance was that I knew I couldn't do everything that I loved and wanted to do.
So, with Whitesnake, I wanted the music to fall under an incredibly broad creative umbrella. If I wanted to do unplugged stuff, then I would do unplugged stuff. If I wanted to do a ballad, I'd do it, even if it made me nervous. I liked incorporating dance grooves, slow blues, English folk music, classical influences, and hard rock on a whim. I put all of that in a blender, which ultimately became the sound of Whitesnake.
Metal Edge: Did the success of the '87 record take you by surprise?
David Coverdale: A lot of people feel it's Whitesnake's best record. And don't get me wrong, I'm thrilled with the '87 record, but I can't pick a favorite. But make no mistake; I am overjoyed with the '87 record and how it did. I mean… are you kidding me? I had a job with Deep Purple and then left to form Whitesnake. I made a bunch of records, but by '87, I was almost $3 million in debt. I had no idea that record would be a hit. I didn't know if it would do anything at all. But then it suddenly took off through radio and MTV playing Still of the Night. And I think those who loved Slide it In were waiting for that record and had hopes for it, but there was no way to know it would be such a monumental success. While MTV had been around for some time, it was still a relatively new scenario. And then they started beating people over the head with Still of the Night, and it just went haywire.
Metal Edge: What was the secret sauce behind that record?
David Coverdale: After the ball was dropped with Slide it In, I have to admit I didn't expect things with the '87 record to go well. And once again, we had different players, who all were great, but that shift didn't initially lend itself to stability in my mind. But then there was John Sykes, who I felt was the first guy capable of being a band leader in Whitesnake. Another thing going on was that I'd lost Jon Lord, who had rejoined Deep Purple with my blessing. But we had Don Airey record the keyboards for the '87 record, and I felt we harnessed that sound well. Those sorts of keys made a big difference because it wasn't reliant on guitars, though John Sykes did track tons of them.
Metal Edge: John Sykes has garnered almost mythical status among the Whitesnake faithful for his work during that era. How integral was he to the finished product?
David Coverdale: As you know, things went squirrely between us, which was unfortunate. But John was and is an incredible talent. Our musical chemistry was great, but it didn't work personally. The truth of the matter is no matter how incredible of an album that we made together, we were unable to connect as people. You can hear that there was creative magic in that relationship, but it stopped the moment we put the mics and instruments down. John was critical to that record and a superb live player. But there were many important aspects of things that were not there. It wasn't meant to be. With John, things just exploded. I think rock bottom would have been when he tried to fire me from my own band. As you can imagine, that didn't go over very well. [laughs]
Metal Edge: Have you spoken with John since he left Whitesnake?
David Coverdale: I was talking to a mutual acquaintance some years back and said, "I haven't heard anything from John for a long time." And this acquaintance got John and me talking while I was working on demos for the Into the Light record. So, after something like 15 years of animosity, we spoke and got on well. Thoughts of working with him again crossed my mind, but the more we spoke, the more I realized that I had changed significantly, and John had been his own boss for so long, so it would never work.
I thought, "The chemistry is not going to work; it's going to be as it was all over again; I can't have that." Truthfully, I simply don't want to do anything at this time in my life that will open the door to regret. I know that's perhaps disappointing to fans, and I wish John every success, as I know he's a much-loved and admired player. And I hope everything's okay with him as I haven't heard from him for a while. But I guess what guides me now is something I learned from Jimmy Page, John Lord, and the great Ritchie Blackmore, and that's: what's the point of working with someone if I don't think I can teach them anything or get something in return?
Metal Edge: How did your relationship with John Sykes compare with Steve Vai?
Coverdale: Oh, Steve's extraordinary. Are you kidding? I loved his stuff that came out back in the day, and I was thrilled to have him come aboard for Slip of the Tongue. I just heard some of his stuff on a playlist the other day after not hearing it for some time, and I went, "Oh, that's f–king cool." So, he still gives me the same feeling now that he did back then. I've got all types of playlists with jazz and fusion stuff, and even with all that exciting music, the second I heard Steve's playing, I just knew it was him. He's so amazing and very unique. I loved working with him.
I'm sure that you saw I jammed with Steve during the last Whitesnake tour at a show called Hellfest over in France. We had to cancel our dates shortly after that, and I'm hoping we've not played the last Whitesnake show. But anyway, before we had to come home with our tails between our legs, Steve joined us, and what a joy it was. Steve was on the bill, and I asked him, "Do you want to come up and jam?" Thankfully, Steve said yes and came up and blew the place apart. Both my band and I had to pick our jaws up off the floor while trying to mouth, "We're not worthy," because the man is just a deity. [laughs] But Steve and I are still very good friends; we text each other naughty stuff regularly.
Read more at Metal Edge.
Whitesnake released, Still Good To Be Bad, on a four CDs, and Blu-Ray, on April 28th, with newly remastered and remixed versions of the album, rare and unreleased music and concert footage, read more details, here.