WHITESNAKE "STILL GOOD TO BE BAD" 4-CD/BLU-RAY COLLECTION AVAILABLE APRIL 28TH WITH NEWLY REMASTERED AND REMIXED VERSIONS OF THE ALBUM, RARE AND UNRELEASED MUSIC AND CONCERT FOOTAGE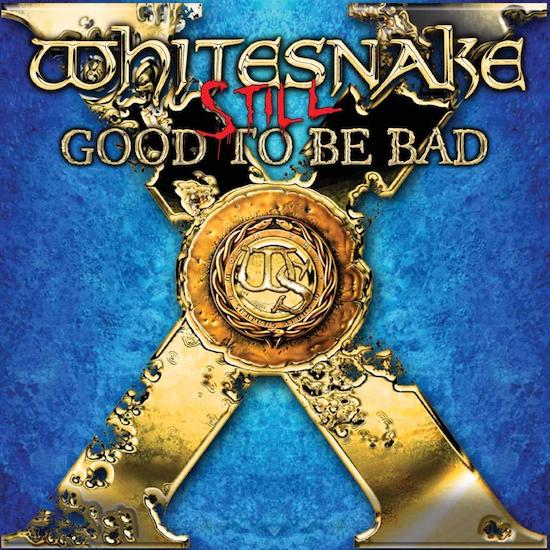 Whitesnake returned in 2008 with Good To Be Bad, the band's 10th studio album and its first in over a decade. Fans embraced the comeback, pushing the album into the Top Ten in the U.K. and flocking to shows on the band's massive world tour. Today, album tracks like Best Years and Summer Rain have taken their place in the band's live repertoire alongside global hits like Here I Go Again and Still Of The Night.
Whitesnake explores the group's 2008 return with the upcoming legacy retrospective, Still Good To Be Bad. The collection will be available in different configurations on April 28th, a few days after the original album's 15th anniversary. The first collection is a 4-CD/Blu-ray set for $69.98. It has two new versions of the original album (one remastered and the other newly remixed), a selection of rare and unreleased studio and live recordings from the period, and videos all the music videos, interviews, and electrifying live performances from the Good To Be Bad world tour. 
Three other versions of Sill Good To Be Bad will also be available on April 28th. The album's 2023 Remix will be released on vinyl as a double-LP ($34.98) and a single CD ($14.98). Still Good To Be Bad also comes as a 2-CD set ($24.98) that includes the remixed and remastered versions of the album. The new alternate mixes also feature new background vocals from the Hook City Harlots, Cami Thompson, Misty Rae & Jackie Landrum, plus the Hook City Horns with Rick Metz on saxes and the trumpet of Joshua Reed. 
The newly remixed version of Can You Hear The Wind Blow is out today as a digital single and new music video, watch it below.
Whitesnake founder and lead singer David Coverdale played an integral role in making the new collection, serving as its executive producer. In the set's liner notes, Coverdale traces the creative spark for Good to Be Bad back to 2003 when he reconvened Whitesnake for a tour celebrating the band's 25th anniversary.
"We went out for two months and came back nine months later, and I had a big smile on my face and felt really energized.… I thought—'Wow! I've got thirty years of music here that I can go out and play, and I don't have to promote a new record…I can just have fun out there.'"
The anniversary ended, but the tour buses kept rolling as Whitesnake remained in demand on the road. As a result, in 2006, the band released Live…In The Shadow Of The Blues, a concert album that also introduced four new studio recordings. Those songs raised fans' hopes for a new Whitesnake studio album, the first since 1997's Restless Heart.
Coverdale enjoyed a newly forged creative friendship with electrifying guitarist Doug Aldrich…After initially saying he wasn't interested in new projects…after three years of touring, he felt the need for new music…not only for the fans, but also to reinvigorate himself.  
He found the perfect writing partner with Doug Aldrich. Not only as a co-writer but, as a co-producer, too…
"Doug and I got on so well, I suggested we sit down with our acoustic guitars & see what unfolded…I was thrilled how effortless it was to create new Whitesnake music with him…" 
So, it was that in 2007, Coverdale, guitarists Doug Aldrich and Reb Beach, keyboardist Timothy Drury, bassist Uriah Duffy, and drummer Chris Frazier began recording tracks for Whitesnake's 10th studio album, Good to Be Bad. Celebrated by both fans and critics, the record was named Album of the Year at the 2008 Classic Rock Awards.
Still Good To Be Bad explores the creative process behind the record with 28 different mixes and alternate versions of album tracks, all but one of them previously unreleased. High points include If You Want Me, backed by the Hook City Harlots and Horns and a version of All For Love that features a different guitar solo by Aldrich. The collection also includes Evolutions, a disc of unreleased recordings that presents a guide through the genesis of each song, from initial ideas with rough vocal melodies, lyrics and riffs through to finished demos and full band production versions.
The Blu-ray delivers a variety of Whitesnake video footage, including live tracks from the band's 2008 European tour, acoustic performances from the era, and an interview by Eddie Trunk. New songs like Best Years, A Fool In Love, and Can You Hear The Wind Blow come to life in these incredible live performances. The Blu-ray also features promo videos for Ready To Rock and Lay Down Your Love. 
Still Good To Be Bad 4-CD/1Blu-ray Track Listing:
Disc One: Good To Be Bad (2023 Remix):
Disc Two: Good To Be Bad (2023 Remaster):
1.   Best Years
2.   Can You Hear The Wind Blow
3.   Lay Down Your Love
4.   All I Want All I Need
5.   Call On Me
6.   All For Love
7.   Good To Be Bad
8.   Summer Rain
9.    If You Want Me
10.  Got What You Need
11.  Dog
12. All I Want Is You
Disc Three: Alternative Remixes & Versions With Hook City Harlots:
1.     Lay Down Your Love *
2.     Call On Me *
3.     All For Love *
4.     Good To Be Bad *
5.     If You Want Me * – with Hook City Harlots and Hook City Horns
6.     Got What You Need *
7.     A Fool In Love *
13.  A Fool In Love
14.  Ready To Rock
15.  "Til The End Of Time
Tommy Aldridge on Drums
8.    Dog *
9.    All I Want Is You *
10.  Ready To Rock *
11.  If You Want Me *
12.  All For Love * – Doug Aldrich Alternate Solo
13.  Summer Rain – Unzipped Version
Disc Four: Evolutions:
1.    Best Years *
2.    Can You Hear The Wind Blow *
3.    Lay Down Your Love *
4.    All I Want All I Need *
5.    Call On Me *
6.    All For Love *
7.    Good To Be Bad *
8.    Summer Rain *
9.    If You Want Me *
10.  Got What You Need *
11.  Dog *
12.  All I Want Is You *
13.  A Fool In Love *
14.  Ready To Rock *
15.  Til The End Of Time *
*previously unreleased
Blu-ray: Music Videos:
1.     Ready To Rock – Promo Video 
2.     Lay Down Your Love – Promo Video
Purplesnake Videos:
3.     Best Years
4.     Can You Hear The Wind Blow
5.     Call On Me
6.     All I Want Is You
7.     All For Love
8.     Got What You Need
Four-Play-Live: Highlights from the 2008 European Tour:
9.    Best Years
10.  Can You Hear The Wind Blow
11.  Lay Down Your Love
12.  A Fool In Love
Cutting Room NY: Acoustic Performances 2008:
13. Eddie Trunk Interview
14.  Can You Hear The Wind Blow
15.  All I Want All I Need
16.  Lay Down You Love
Slideshow:
17.  Summer Rain – Unzipped Version
2LP: Still Good To Be Bad (2023 Remix)
Side One
1.     Best Years
2.     Can You Hear The Wind Blow
3.     If You Want Me
4.     All I Want All I Need
Side Two:
1.     Lay Down Your Love
2.     Call On Me
3.     Summer Rain
Side Three:
1.     Good To Be Bad
2.     Ready To Rock
3.     All For Love
4.     All I Want Is You
Side Four:
1.     Got What You Need
2.     A Fool In Love
3.     Dog
4.     'Til The End Of Time