WHAT IS EDDIE TRUNK'S FAVORITE DECADE FOR MUSIC? "THE '70s GUYS ARE THE MOST SPECIAL TO ME"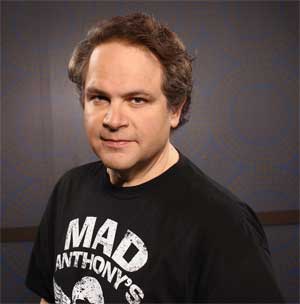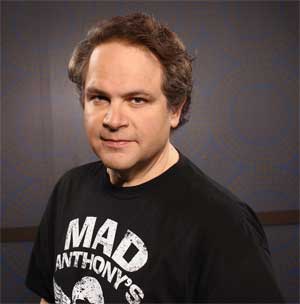 Jeb Wright of Classic Rock Revisited spoke with Eddie about his current book, Eddie Trunk's Essential Hard Rock and Heavy Metal Volume II and music, in general. Highlights of the interview appear below.
Jeb: You are not just a personality; you are a fan of the music. After 30 years does it feel odd that you get asked to do all of these things like host shows, parties, cruises and write books, or are you to the point where you say, "After all of this time…I have earned this."
Eddie: Well, I will tell you it is a little bit of both. I do really honestly just think of myself as a fan but I would be naïve if I didn't realize that there are a lot of people that actually care about what I do and what I say and the music I play. I am very grateful that there are people that care about what I say and do. I am proud that I've been able to build that sort of trust and relationship with an audience. It is really cool.
It is a little bit of both. I know that there are people out there that are going to really look forward to something like these books. I have heard from a lot of people who have used them as blueprints to get their kids into the music, or that they have discovered bands because of them. That's really cool, because no matter what I have done in the business in the 31 years that I have been in it, I have always made it about spreading the word about these bands that I love. That has always been the endgame and the fact that it is growing and continues to grow and that I have more than one outlet to do that…I have my website and social media as well, the fact that I have these things is something that I don't take for granted.
I try to keep a certain standard of quality to it. I try to make sure they are done well. The layout of the books and the quality of the layout is all well done. That is a credit to my publisher more than me. I want to do stuff that is of good quality and that is respectful of the music, but also honest. I think that is what really carries the whole thing.
Jeb: You talk about Glenn Hughes in the new book.
Eddie: I love Glenn's work. Deep Purple has always been way bigger outside of American than in America. They have a higher level profile elsewhere. Lars Ulrich wouldn't be playing music if it were not for Deep Purple; they were bigger for him than Led Zeppelin. There is a much higher level for Deep Purple in Europe for Deep Purple's lineup with Glenn.
I was sorry to see Black Country Communion fall apart. He has new stuff coming out. People can discover Glenn Hughes through places like your website or my radio show. There is a swell of people out there who want to know about this. There is a ton of great music from classic artists that is not being well represented and I want to represent it just like you do.
Jeb: Buckcherry is in this book. They are awesome.
Eddie: They are a band that embodies that sort of AC/DC in your face hard rock sound. I was very happy when they came back. They had a really huge record when they came back and now they have settled into playing to their core fan base for now. They are still a phenomenal band. They are not a new band but they are a newer band that captures that spirit.
Jeb: I tend to lean as a fan to the '70s hard rock over the '80s. Well, up to about 1983 is pretty awesome. Which era do you love the most?
Eddie: I would say my personal favorite era is the '70s. There is a tremendous amount of great stuff that came in the '80s. You had great commercial stuff and you had the whole Metallica thing happen and everything that came after. You had Iron Maiden and stuff like that.
For me, the '70s guys are the most special to me. That is when I really grew up. I was a little kid and those are the things that shaped me musically for the most part. Aerosmith, Kiss, Van Halen, UFO, AC/DC, Black Sabbath…those are the bands that were important to me as a kid and really opened the flood gates to everything.
In the '80s I was already in the business. I started my radio show in 1983 and I started working for a record company in 1986. A lot of the '80s bands were bands that I worked with and some of them were friends. I still respect them and like them, but I have a different way of looking at them as we came up in the business together, as opposed to the '70s guys as they were the ones that I had the posters of on my wall. That is the difference mainly for me.
Jeb: Tell us about an album that readers at www.classicrockrevisited.com should be checking out.
Eddie: I love the new Alter Bridge record. That record was in my Top 3 of last year. The Winery Dogs are very near and dear to me. They were a band that I had a role in assembling. It was my idea to plug Richie Kotzen into that band. I think he is one of the greatest talents I know of. If people have never heard his solo stuff then you need to know that his last few solo releases have been mind-blowing. Beyond the personal connection, as a fan, I love that Winery Dogs.
There are some new bands that have come out. I like some things about Rival Sons. There is a band called Monster Truck that I heard and I like. They are out of Canada. There are movements of bands that are coming out that are newer and younger but have a kind of old school sound. Scorpion Child at times sounds like Fastway to me. So, those are the things that catch my ear that I like.
I'd like to hear a really great heavy band come out, but I haven't. One of the big problems I have with music in general is that I need to have vocalists that I like. If I don't like the singer, then I am not going to be down with it. I can't get into the scream stuff. I'd love to hear a really heavy, heavy band with really good vocals but I have not heard any of that just yet.
Read more at Classic Rock Revisited.