WENDY DIO TALKS 5TH YEAR RONNIE JAMES DIO CELEBRATIONS, HEAR N' AID, CLASSIC BLACK SABBATH, DIO RELEASES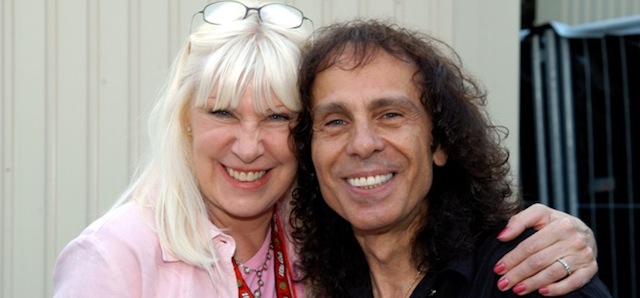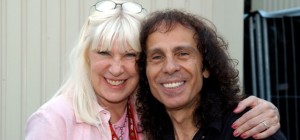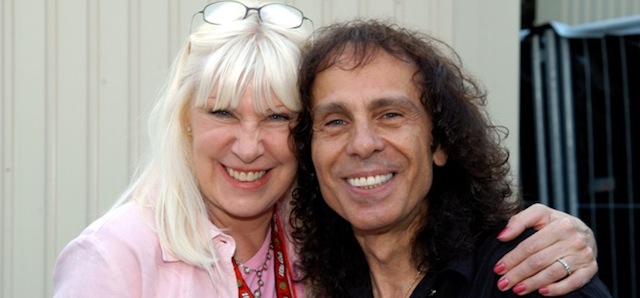 Greg Prato of Bravewords interviewed Wendy Dio about this weekend's five year memorial celebrations honoring the passing of the legendary singer. The interview appears in its entirety below.
BraveWords: Let's discuss the upcoming events.
Wendy Dio: It's five years since Ronnie's passing, and every year, we have a little memorial ourselves up by the gravesite – it's usually 30 of Ronnie's friends. But this year, we decided it's five years, why don't we open it up to the fans? So we booked the auditorium up at Forest Lawn, and we thought it would be nice for the fans to come, and there will be people speaking about Ronnie's life and also performers – band members that used to play with Ronnie and his friends – and we'll have a really nice celebration of Ronnie's life up at the memorial. Then we thought, "What should we do extra for the fans?" Well, we decided that we would do a mini-museum. So we have a mini-museum up there in the foyer – of some of Ronnie's stage clothes, awards that he's been given, like, a letter from George Harrison, some of his music, original artwork from Holy Diver, Last in Line, and Sacred Heart, and a lot of little things that I thought the fans might be interested in seeing. And then, when we started getting the invites back, a lot of people are coming from as far as Australia, Japan, Russia, and a lot of places. We thought, "Let's put something around it – events that they might want to attend, and also raise some money for the cancer fund." So, that's why we decided to put in the celebrity bowling at Pinz in Studio City on the 15th of May. And Jack Black has graciously said that he would bowl for us, and lots of other celebrities, which I've got a list here…here are just some of the people that will be there – Tom Morello, Vinny Appice, Jimmy Bain, Jack Black, Amber Lynn, Chris Broderick, Robbie Crane, Marc Ferrari, Lita Ford, Kyle Gass, Craig Goldy, Phil Sandoval, Oni Logan, Rudy Sarzo, Eddie Trunk will be there for all three days, Simon Wright, and more and more people. So those people will all be bowling. And then we'll do a silent auction there and maybe a live auction, and then of course the memorial is the next day. The following day we've decided to do Ride for Ronnie, and if it goes well, we'll make this every year – it's a motorcycle ride from Harley Davidson of Glendale, finishing in Los Encinos Park, and there will be a barbeque there with live music. Eddie Money is one of the people playing, Gabbie Rae, Dio Disciples, a bunch of people. It will be a fun celebration of Ronnie's life and his music. We're also going to raffle off a Harley Davidson motorcycle that is being painted at the present time – of the Holy Diver album cover. The raffle will be worldwide. So those are the things that we've been planning for the last few months.
BraveWords: Are there any updates regarding the Hear N' Aid Stars reissue and re-recording?
Wendy Dio: I am in talks with a few record labels right now about reissuing Hear N' Aid. We have a lot of backstage footage – lots of stuff that hasn't been seen before. And I would like to do it and have the proceeds go to Stand Up and Shout. We have a lot of legal issues to go through, and we are working on it, and hopefully, we will get that out next year.
BraveWords: On YouTube, I have seen a snippet of great pro-shot live footage of Black Sabbath filmed circa 1981/1982. Is there any talk of releasing that full performance on DVD?
Wendy Dio: That would have to be discussed with the rest of the members of Black Sabbath, which I'm sure we will do at some time. It's great, vintage footage – absolutely.
BraveWords: Are there any updates regarding how Ronnie's autobiography is coming along?
Wendy Dio: He started a book – he went halfway through the Black Sabbath days, when he passed away. I do have a publisher for it, and they did ask me to finish it with some help from some friends. I just haven't had the time or been able to sit down and finish it yet. But yes, it will come out.
BraveWords: And lastly, are there any other Ronnie-related projects on the horizon?
Wendy Dio: Everyone is asking me if there is any unreleased material. I do believe there is some. I closed Ronnie's studio when he passed, and I haven't been in there since. But I will go in, look, and see if there's anything. And if it's anything that's up to Ronnie's standard, we will release it. But if it's not, then we won't.
For more details about the Ronnie James Dio 5th Year Memorial Service and Celebration of Ronnie's Music visit diocancerfund.org/events. You may also find a donation link on top of the site, should you want to contribute to Dio's cancer fund.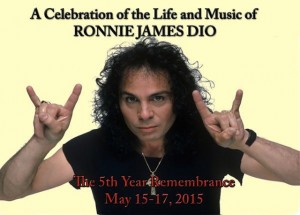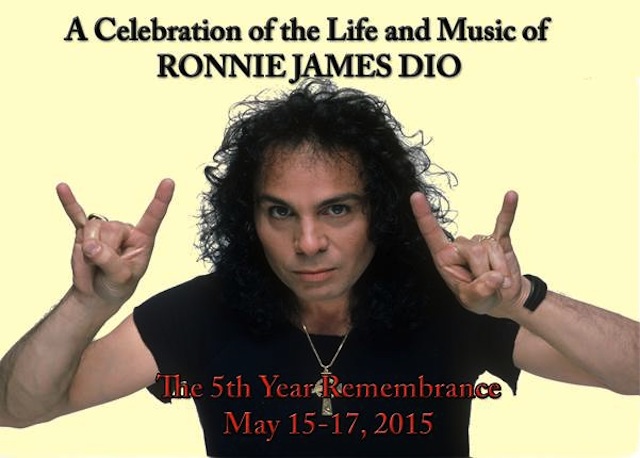 source: bravewords.com