WENDY DIO SAYS RONNIE NEVER SPOKE TO RITCHIE BLACKMORE AGAIN AFTER GETTING FIRED FROM RAINBOW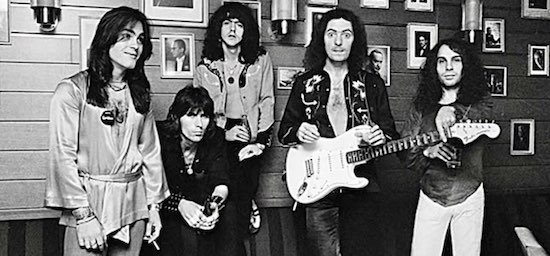 Greg Prato has posted some excerpts from his book The Other Side Of Rainbow on Bravewords, quotes below explain what led to the singer parting ways with [guitarist Ritchie] Blackmore.
Wendy Dio (Wife/manager of original Rainbow singer, Ronnie James Dio): "He got fired. You don't have much choice there. I think Ronnie saw it coming."
David Stone (Rainbow keyboardist (1977-1979)): "That was kind of sad. Ronnie was always a really nice guy – no ego, really easy to get along with. Just one of the guys. A regular guy from Upstate New York, really. Blackmore was…he liked to control everything. So I could tell he was telling Ronnie what to sing and what to sing about. It limited Ronnie I think, creatively, quite a lot. Ronnie was like me – 'We're working with a rock god here, so we have to accord him that kind of respect.' I think Blackmore should have stuck with Ronnie. He should have probably let Ronnie have a little more leeway when it came to songwriting and creativity. And he had a great band around him – all he had to do was let the band be a band. But he was a real control addict, and there was going to be none of that."
Wendy Dio: "I don't think so." [In response to being asked if Ronnie and Ritchie ever spoke again after the split].
Mark Clarke (Rainbow bassist (1977), Colosseum bassist): "No, nothing about Ritchie Blackmore ever surprises me, mate. When Ritchie is involved with anything, nothing surprises me. I was surprised that it lasted so long."
Wendy Dio: "I don't think so, no. [In response to being asked if the lyrics to the Dio song Rainbow In The Dark' were about Ritchie] Heaven And Hell was – 'The world is full of kings and queens that blind your eyes and steal your dreams, it's heaven and hell.'"
Charlie Benante (Anthrax drummer):  "It's such a shame that those first three Rainbow records, you can't go and see that band play. It's a shame that it's a moment in time that we'll never get to see or hear again."
Read more at Bravewords.