WENDY DIO ON RONNIE'S HOLOGRAM, "THERE ARE ALWAYS THE TROLLS [THAT] FIND SOMETHING TO BADMOUTH"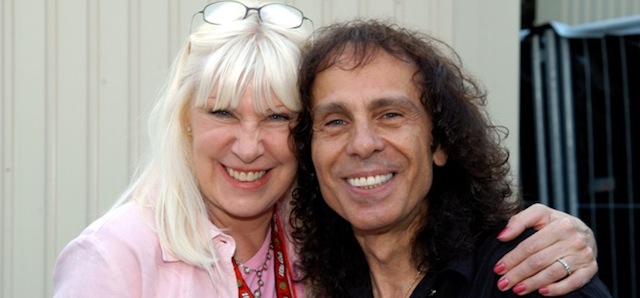 Greg Prato of Bravewords spoke with Wendy Dio. Excerpts from the interview appear below.
BraveWords: Let's discuss this year's Ride for Ronnie event.
Wendy Dio: Eddie Trunk will be hosting it, as always – he's such a fantastic person and was always a great friend of Ronnie's. This year, we've got Lynch Mob playing, Dio Disciples, Eddie Money, and Rough Cutt, who just reformed and will be performing Stars with a bunch of people. And we've just got Steven Adler from Guns N' Roses on board – he's going to perform I think Sweet Child 'O Mine and Welcome To The Jungle with an all-star band…We also have food trucks there, we have beer and wine, we have lots of vendors there selling lots of things, raffle items that are only one dollar each, a silent auction, a live auction. For the live auction, we have Eddie Money's full-length leather trench coat that he wore on tour, we have a signed acoustic guitar from Great White, we have Slayer tickets, Yes tickets, wine baskets, a bundle of Dio stuff, a bundle of Black Sabbath stuff. We have all kinds of really great items this year. So it will be a fun day, starting in the morning, where I will be riding along with a lot of the celebrities – Lita Ford will be riding and coming to the park. And then the festivities at the park will start around noon, and the band will be playing, and everybody who is playing will do a meet-and-greet. We also have Emilio Rivera from Sons of Anarchy, he'll be there with a bunch of his different actors to sign autographs. It's going to be a fun day – raising money for cancer and keeping Ronnie's music and his legend alive. On diocancerfund.org, there is a lot of information on the event and you can buy tickets there – or you can buy tickets at the door.
BraveWords: Did Ronnie ever ride a bike?
Wendy Dio: No. [Laughs] But he had a lot of biker fans.
BraveWords: As far as Ronnie's musical archives, what is coming up?
Wendy Dio: We have actually just been talking to Warner Brothers about putting out some unreleased stuff. It will be later this year.
BraveWords:…Do you know if there is any Rainbow material with Ronnie that hasn't been released? Whether it be concerts or studio outtakes?
Wendy Dio: I'm sure there is. But then you're going into the Ritchie Blackmore camp, which controls that stuff.
BraveWords: What is the status of Ronnie's autobiography?
Wendy Dio: I'm supposed to be finishing it, I've been looking at it – but now is the time that I feel I can go back in there and go down that road again, and finish it.
BraveWords: Let's discuss the Ronnie hologram seen at Dio Disciples concerts.
Wendy Dio: We are actually in the middle of making a new one, for six songs. It's a long process. Ronnie was always floored by the holograms in Disneyland. In fact, in 1986, we tried to make a hologram – we used this rear projection, and anyone who saw the Sacred Heart tour, saw the crystal ball with Ronnie's head in there, talking. He was an innovator of music, and I think he would've been an innovator of technology. And this is a new way of technology. Some people are naysayers about it, some people like it. What we were trying to do is bring this…for the fans that would like to see Ronnie back on stage again with his band mates. It's a live band with the Disciples playing – which was Ronnie's band mates for the last 17 years. It's something that somebody that wanted to go see but never saw Ronnie and never had the chance to see Ronnie before would maybe want to see, and those who would like to see him back on stage again.
BraveWords: Regarding the naysayers, you can never please everyone.
Wendy Dio: There are always the trolls that all they do is find something to badmouth. My thing to say to them is maybe you can try and do one good thing a week, instead of trying to trash people. I do a lot of charity work and most of the people I know do charity work. We work hard, we do things that a lot of times, we give money. We don't take the money – we give the money. But it's always that, 'Oh, she's a cash cow doing this.' I don't know where this comes from…I don't think we're going to make any money from it. Maybe down the road years later, if it's successful…like Ronnie always put his money into big stage sets and all these different things. He didn't need to do that, but he would do it – he'd give back to the fans. And that's what I think life is about – giving back, not trying to trash somebody.
Read more at Bravewords.
source: bravewords.com