SWEET & LYNCH PREMIERE VIDEO FOR "THE WISH" FROM THEIR UPCOMING DEBUT "ONLY TO RISE"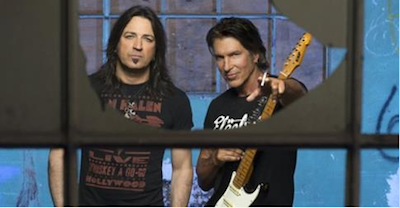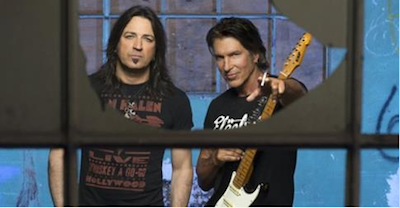 Sweet & Lynch are releasing the first official video from their upcoming debut album, Only To Rise. The video is for the album opener The Wish and premiered on Ultimate Classic Rock. The video shows Michael Sweet and George Lynch performing the song together amongst imagery that corresponds with the song's lyrics. The video was shot in Los Angeles and was directed by Devin DeHaven, known for his work with Rick Ross, Whitesnake, Kiss and R. Kelly to name a few. The video can be seen below.
"After almost a year of talking about the Sweet & Lynch album we're extremely proud to premiere the first music video, The Wish, states Michael Sweet. "The song takes you back to a time when guitar heroes ruled the airwaves and melodies soared. The thought was to bring back the late 70's/early 80's with a modern twist and remind people of one of the best eras in hard rock/metal."
Only To Rise is scheduled for release on January 23rd in Europe and January 27th, 2015 in the United States via Froniters Music SRL. Backing up Sweet & Lynch on this new musical adventure is bassist James Lomenzo and drummer Brian Tichy. Sweet & Lynch recently launched a pre-order for the new album via PledgeMusic. The pre-order features various bundle packages for fans and is live at: pledgemusic.com/projects/sweetlynch and on Amazon.
"George and I are proud of how this album turned out and we're counting the days for the release," adds Sweet. "We're equally as proud of the fan base out there. So many people have been there through thick and thin and this album is a testimony to the perseverance of working hard and working even harder. George, Brian, James and myself gave 110% to every note played and sung and we hope that it shows."
From the opening notes of The Wish to the drum solo finish on the album-closer Only To Rise, it is evident that this musical partnership between Michael Sweet's unmistakable voice and George Lynch's signature guitar tone has yielded incredible results. Songs Dying Rose, Me Without You and Strength In Numbers showcase the diversity that permeates throughout the entire album. Sweet & Lynch released a lyric video for the 9/11 inspired track September which can be seen here.
Only To Rise was produced by Michael Sweet who also produced the last Stryper album, No More Hell To Pay, which received massive fan praise and critical acclaim alike.
Plans are currently being worked out for Sweet & Lynch to play a few live shows in the Spring of next year, making this different than any other supergroups that record together but never play live. More information will be announced in the near future. If the past records of these four musicians are any indication, no fan will want to miss these shows.
Visit Sweet & Lynch on the web at:
facebook.com/SweetLynch
pledgemusic.com/projects/sweetlynch