WATCH KEITH ST. JOHN & FRIENDS PERFORM "RONNIE MONTROSE REMEMBERED" LIVE AT "MONSTERS OF ROCK CRUISE STUDIOS"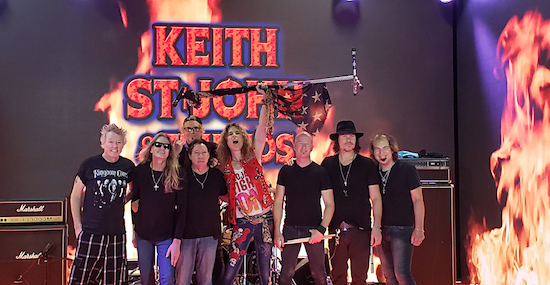 On May 28th, a special mini version of the annual Ronnie Montrose Remembered concert normally held during the NAMM convention in Anaheim California performed a full-length set live on the Monsters Of Rock Cruise Facebook page.  The entire show can be streamed at the link below.
Made up of local players gathered together by Keith St. John, the performance was about a quarter of the length of the yearly Anaheim shows fans have grown accustomed to. The line up included local area players that were able to make last-minute arrangements during the current "re-opened" state of affairs in Los Angeles county
The performers included Keith St. John (Montrose, Kingdom Come, Burning Rain) Dave Amato (REO), James Kottak (Scorpions, Kingdom Come) Sean Mcnabb (Dokken, Quiet Riot, Montrose) Mitch Perry (MSG, Edgar Winter Group) Dicki Fliszar (Jack Russell's Great White) and Rick Steier (Kingdom Come, Warrant). The set list consisted of mainly Montrose songs from the Montrose debut album released in 1973 on Warner Brothers records produced by Ted Templeman, along with a couple songs from the Montrose Paper Money album and a few Kingdom Come songs from their debut album thrown in for good measure.
Having performed on this year's Monster's of Rock Cruise with both of his bands- Burning Rain, featuring Doug Aldrich, Blas Elias, and Brad Lang and- Kingdom Come, featuring James Kottak, Danny Stag, JB Frank, and Rick Steier, St. John said, "Larry Morand invited me to put a show together for the Monsters of Rock Cruise online live video stream on May 28th,  but since neither of my bands had all it's members in the L.A. area, so I decided to take this opportunity to arrange a mini celebration concert to honor the music and the legacy of my long time soul brother and band mate Ronnie Montrose.  While our normal shows in January have included such artists as Brad Whitford, Howard Leese, Brad Gillis, George Lynch, Steve Stevens, and dozens more…on this smaller scale I was hoping to give many of the fans I've been hearing from during the last two months of this live music lock down thing a little live rock to keep them going!  I knew it was going to be experimental and a bit thrown together, but I also have the utmost confidence in Larry's crew as well as the guys that were able to make it.  I hope folks that have been temporarily deprived of their live rock concerts can get a few rocks off on what we threw down."  
Keith St. John is working on releasing a solo record by early 2021 and will be touring and performing with Kingdom Come and Burning Rain when the world wide concert venues begin reopening. His voice can be found on the recently released record Rise with Dutch artist Ron Coolen, click here to listen.  Mitch Perry has just released his solo album Music Box with first video single Believe, click here .  Dave Amato will be back on tour with REO when their schedule resumes.  Sean McNabb's latest music and acting news can be found at @SeanMcNabbLA.  Dicki Fliszar will be back out with Jack Russell's Great White when schedules resume.  James Kottak and Rick Steier will be back out with Kingdom Come when schedules resume.  Mick Mahan will be back out with Pat Benatar when schedules resume.  
Go here to view Ronnie Montrose Remembered.