VAN HALEN PARTNERS WITH MOBILE FIDELITY SOUND LAB & WARNER RECORDS TO RELEASE BAND'S FIRST SIX STUDIO ALBUMS AS 180G PREMIUM SUPER VINYL BOX SETS, SACDS, AND 180G 45RPM 2LPS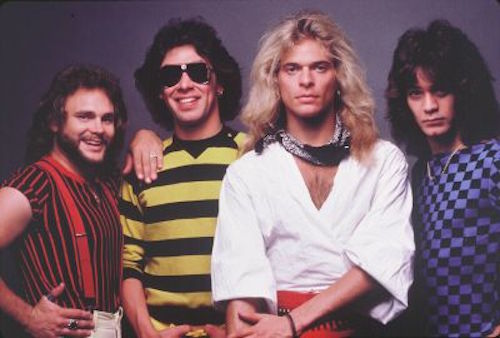 Van Halen's first six multi-platinum selling albums will be released by Mobile Fidelity Sound Lab (MoFi), a company delivering the foremost audio technology and specializing in high-quality reissues of key albums, on its revered UltraDisc One-Step 180g 45RPM 2LP (UD1S) and hybrid SACD formats. Exclusively limited to 10,000 numbered copies, each UD1S box set will be mastered from the original analog master tapes, pressed at RTI on MoFi SuperVinyl. In addition to the limited edition UltraDisc One-Step 45rpm vinyl, the numbered-edition Super Audio CDs (SACD) will come packaged in a mini-gatefold sleeve and be mastered from the original tapes. The first of the six studio albums, Van Halen (1978), is set to be released in the fourth quarter of 2022, and will be followed by Van Halen II (1979), Women and Children First (1980),  Fair Warning (1981),  Diver Down (1982), and 1984 (1984).
Mobile Fidelity's ultra-hi-fi UltraDisc One-Step 180g 45RPM 2LP Box Set vinyl editions of the band's first six albums can be pre-ordered now at MusicDirect.com, the world's largest online retailer of high-end home audio and audiophile music, equipment, and accessories, including vinyl records and turntables. Pre-orders for a standard three-step process 180g 45RPM 2LP will be announced at a future date.
"Mobile Fidelity Sound Lab is excited to release Van Halen's first six iconic albums in the UD1S and SACD formats for the first time," said Jim Davis, president of Music Direct and Mobile Fidelity Sound Lab. "Fans will experience Van Halen's original blend of raw power and Hollywood flair like never before through these limited-edition, audiophile-grade One-Step vinyl box sets."
Van Halen's iconic first six albums have previously been overlooked for the UD1S and SACD treatment due to the music's sheer excitement and raucous intensity. Ted Templeman's production work and Donn Landee's engineering stamps them with the kind of immediacy, dynamics, punch, and separation all great-sounding records possess. That skillful original production is another reason Van Halen's 1978-84 catalog demands the peerless restorative treatment Mobile Fidelity Sound Lab provides. Experienced on the label's UD1S vinyl box sets and hybrid SACDs, the band's records will sound more vivid, present, and entertaining than ever.
The premium packaging and gorgeous presentation of each UD1S Van Halen pressing befit its select status. Housed in a deluxe box, each set features special foil-stamped jackets and faithful-to-the-original graphics that illuminate the splendor of the recording. Aurally and visually, UD1S reissues exist as a curatorial artifact meant to be preserved, touched, and examined. They are made for discerning listeners that prize sound quality and production, and who desire to fully immerse themselves in the art—and everything involved with the album, from the iconic cover art to the meticulous finishes and, naturally, Eddie Van Halen's pioneering fretwork and his brother Alex's double-bass percussion.
Playing with reference-setting sonics that elevate multi-platinum landmarks whose importance cannot be quantitatively measured, Mobile Fidelity collector's versions provide a clear, clean, transparent, balanced, and turn-the-volume-up-to-11 view of feel-good albums that birthed entirely new styles and fueled hormonally charged desires. And because MoFi's unique SuperVinyl compound allows analog lovers to crank the decibels to their wildest desires without risking noise-floor interference, they will not only hear but feel Van Halen in their chest, no fifth-row concert seat necessary. 
Upon its groundbreaking arrival in 1978, Van Halen did more than announce to the world the earthshaking advent of a revolutionary guitarist. The enterprising California quartet ripped headlines away from punk, injected fresh energy into a then-moribund rock 'n' roll scene, reimagined how heavy music and throwback pop could coexist, and invited everyone to experience the top-down pleasures of a beachfront Saturday night every day of the week no matter where they lived. Starting with Van Halen and continuing with five more hugely successful albums, the original lineup of Eddie Van Halen, David Lee Roth, Alex Van Halen, and Michael Anthony set the planet on fire en route to becoming one of the biggest and most original bands in history.