VAI, MALMSTEEN, WYLDE, BETTENCOURT AND ABASI TO RELEASE "GENERATION AXE – THE GUITARS THAT DESTROYED THE WORLD: LIVE IN CHINA" TO BE RELEASED ON JUNE 28TH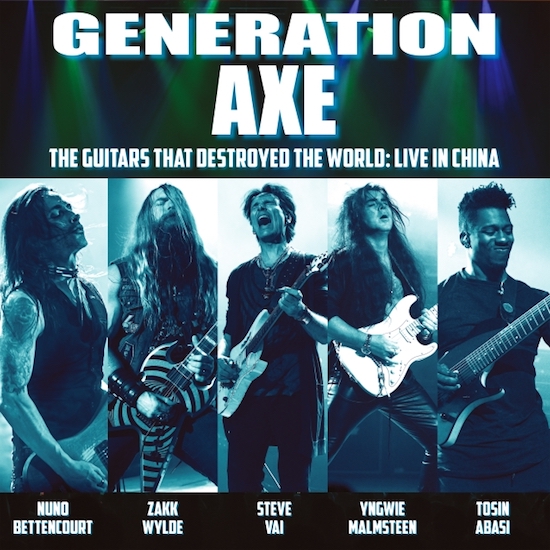 In the spring of 2016, guitar heroes Steve Vai, Yngwie Malmsteen, Zakk Wylde, Nuno Bettencourt and Tosin Abasi teamed up for a North American tour called Generation Axe, in which the five musicians shared a backing band and performed together in addition to playing individual sets.
A year after their successful inaugural tour, the five guitarists reconvened for an 11-city tour of Asia that included a stop in Beijing, China. Select performances from that April 2017 concert appear on the new live recording, Generation Axe – The Guitars That Destroyed The World: Live In China. The album will be released on June 28 via earMUSIC as a CD digipak, limited colored 2LP+download and digital.
The track listing is as follows:

1. Generation Axe – Foreplay (Boston cover)
2. Tosin Abasi – Tempting Time (Animals As Leaders cover)
3. Tosin Abasi/Nuno Bettencourt – Physical Education (Animals As Leaders cover)
4. Nuno Bettencourt – A Side Of Mash (medley of Extreme solos)
5. Nuno Bettencourt/Zakk Wylde – Sideways (Citizen Cope cover)
6. Zakk Wylde – Whipping Post (The Allman Brothers Band cover)
7. Steve Vai – Bad Horsie
8. Yngwie Malmsteen – Valhalla / Baroque n Roll / Overture / From a Thousand Cuts / Arpeggios from Hell / Far Beyond the Sun
9. Yngwie Malmsteen/Steve Vai – Black Star
10. Vai/Wylde/Bettencourt/Abasi – Frankenstein (Edgar Winter cover)
11. Generation Axe – Highway Star (Deep Purple cover)
Listen to Frankenstein below.