GUITARIST MICHAEL SCHENKER DISCUSSES THE SCORPIONS, UFO AND DAVID COVERDALE WANTING HIM TO JOIN WHITESNAKE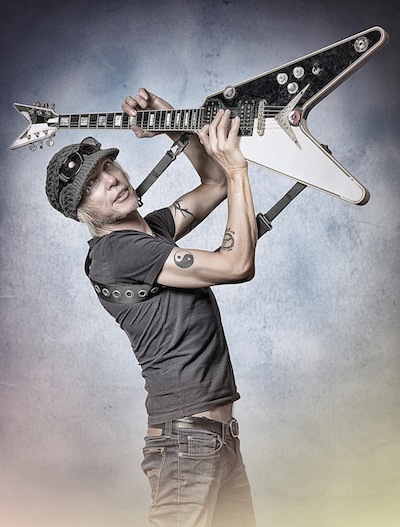 Ruben Mosqueda of Metal Titans spoke with iconic guitarist Michael Schenker. Portions of the interview appear below.
Metal Titans: In the past, you've had history of stage fright?
Michael Schenker: Yes, but in 2008 it went away, I think it had to do something with me accepting that this is what I do, I create and I began to embrace my past, in Scorpions, UFO and M.S.G., after that I entered the third phase of my career which began with Temple of Rock and now Schenker Fest. There was a time, when I didn't know who I was, now I know who I am. [laughs] It's crazy. [laughs]
Metal Titans: With Schenker Fest actively touring and now on the verge of issuing a second album, what's the status of Temple of Rock?
Michael Schenker: That's a good question, I don't know. We have been touring this for a few years. When we shot the DVD in Tokyo, Japan and I saw it, I knew we needed to continue doing this. It was fantastic. We had to have Doogie be a part of this, because Doogie and I are Temple of Rock, it brought everything full-circle. So to answer your question, if down the road we feel like there should be another Michael Schenker Temple of Rock record, so be it. Right now, I don't focus on that, I focus on this tour, this band and the new album
Metal Titans: If the Rock And Roll Hall of Fame, nominated Scorpions and Scorpions got in, would you make it for the ceremony?
Michael Schenker: That kind of thing doesn't mean a lot to me at this stage in my life, but I was in Scorpions and made some great records with them. I think I would. [laughs] ….
Metal Titans: You former bandmates in UFO are winding things down, what's your thoughts on that? Have you been approached about doing anything with them before they end?
Michael Schenker: Well, I think if Phil [Mogg] thinks that it's time for UFO to go away, then it's time. He knows what is best, I have not been asked nor do I plan on doing anything with UFO before the end. I don't know if I would consider it, even if [former UFO bassist] Pete Way were involved. I tried to help Pete many times, but he does not want help, I can not trust Pete. He is a grown man, he is 60 years old today, he's not 40 years old anymore. He will find his way, when he is ready. Like with Scorpions, we created great music together, they are part of my past, my musical history and I'm proud of that.
Metal Titans: I picked up the Whitesnake Super Deluxe Edition of Slide It In. There's a DVD in the box set, where David Coverdale mentions that he had his eye on you to join Whitesnake leading up to Slide It In. I remember, years ago reading in an article in import magazine about that. How close did you get to being a part of Whitesnake?
Michael Schenker: [laughs] I would have never joined Whitesnake! [laughs] I think, it would have more likely that, David Coverdale would have joined M.S.G. [laughs] My manager was contacted by David Coverdale's management about me auditioning for Whitesnake, but I was not interested in joining someone else's band, even back then, I was aware of my self-expression and I would have not felt fulfilled being in someone's band. If I recall, he [Coverdale] wanted to use the M.S.G. band, he was planning on working with Cozy [Powell], who had worked with me on the first M.S.G. album, and he [Coverdale] wanted to get Chris Glen, but as I say, I would have not been happy, so no, I would have not joined his band [laughs]. I did do some writing with him, but I was not going to join Whitesnake! [laughs]. It would not have worked, it wasn't possible. So, I found Graham Bonnet and worked with Chris [Glen] and Ted [McKenna] on Assault Attack and Cozy [Powell] went on to work with David Coverdale.
Read more at Metal Titans.
Following the release of their successful first album Resurrection, Michael Schenker Fest is currently recording their second album.
The band will be starting a North American tour on April 15th. See the tour itinerary below.
4/15 Whisky A Go Go – West Hollywood, CA
4/16 Whisky A Go Go – West Hollywood, CA
4/17 Whisky A Go Go – West Hollywood, CA
4/19 Palace of Fine Arts – San Francisco, CA
4/20 Ace of Spades – Sacramento, CA
4/21 Revolution Hall – Portland, OR
4/22/ Vogue Theatre – Vancouver, BC
4/24 The Palace (formerly Flames Central) – Calgary, AB CANADA
4/27 Gothic Theatre – Englewood, CO
4/28 The Truman – Kansas City, MO
4/30 Bourbon Hall – Louisville, KY

5/3/ The Pabst Theater – Milwaukee, WI
5/4 Concord Music Hall – Chicago, IL
5/5 Piere's – Fort Wayne, IN
5/7 Danforth Music Hall – Toronto, ON
5/9/ The Egg – Albany, NY
5/10/ The Palladium – Worcester, MA
5/11 Irving Plaza – New York City, NY
5/12/ The Space at Westbury – Westbury, NY
5/14 Ram's Head Live – Baltimore, MD
5/15 The National – Richmond, VA
5/16/ Variety Playhouse – Atlanta, GA
5/18/ Empire Garage – Austin, TX
More on Michael Schenker:
facebook.com/michaelschenkerrocks
instagram.com/michaelschenkerrocks
twitter.com/MW_Schenker
michaelschenkerhimself.com