URIAH HEEP GUITARIST MICK BOX DISCUSSES TOURING WITH JUDAS PRIEST AND DEF LEPPARD, PLUS FORMER DRUMMER LEE KERSLAKE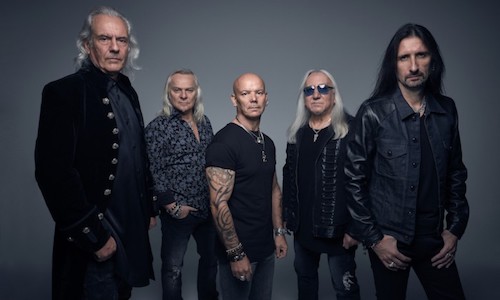 Greg Prato for BraveWords spoke with Uriah Heep guitarist Mick Box. Portions of the interview appear below.
BraveWords: Let's discuss the upcoming tour with Judas Priest.
Mick Box: Back in the '80s, we toured with Judas Priest through America. So, it's going to be something we've done before, but something we're very excited about doing again, because I think both bands are on fire – in terms of they've got a new album out, Firepower, that people are saying is one of the best of their career, and we've got an album out, Living The Dream, that people are saying is one of the best of our career. So, I think it's two bands at the top of their game.
BraveWords:…Who were some of Uriah Heep's favorite touring partners in the '70s and '80s?
Mick Box: In our heyday, we had many people supporting us – from Rush to KISS to ZZ Top to Earth, Wind & Fire. Quite diverse. But I think the best band we've ever toured with I'd say were Def Leppard. When we had the Abominog album out in the '80s, we toured with them, and they were just hitting the big time [with Pyromania], and were the biggest thing since sliced bread in America and Canada. We hopped on their tour, and it was an amazing tour.
BraveWords: I've noticed a wide age range at recent shows I've attended by veteran rock and metal acts. Do you anticipate this at the upcoming shows with Priest?
Mick Box: We are hoping so, because it will be predominately Priest's audience, and of course, the metal fans will be out there. So, we will design our set to please them, too – we've got one hour to play. But in Europe, we get a really young audience, which is really cool. But in America, I'm not sure yet – we hope to have that range of ages, from dads bringing their kids, if you'd like, and those who have grown up with us. It's quite diverse.
BraveWords: Why do you think this is? Because of music streaming services being easier for younger fans to check out artists?
Mick Box: That and also because of the YouTube thing – where you see the band live. There's more access to what we do in the media.
BraveWords: Are you still in contact with [drummer] Lee Kerslake? How is he doing?
Mick Box: Me and Lee, we're like brothers – we're brothers from different mothers, if you'd like. Obviously, his ill health [cancer and other ailments] is something to worry about, but he's a bold fighter. And I think – if I'm very truthful – the music is keeping him alive, because he's trying to finish off a new album of his own. But we go out to dinner whenever we can, we talk a lot. Sometimes, he's having treatment in the hospital, and when I know he's there, I text him jokes to keep his spirits up, and he says, "I'm in a room full of gloom, and I'm the only one laughing!" So, we keep in touch a lot. It's very important, because I love the man, and we spent a large part of our lives together.
Read more at BraveWords.
Uriah Heep's, Living The Dream, was released on September 14th, 2018 through Frontiers Music Srl. Watch a video for the song Grazed By Heaven, below.