UFO AND SAXON ANNOUNCE FALL NORTH AMERICAN TOUR DATES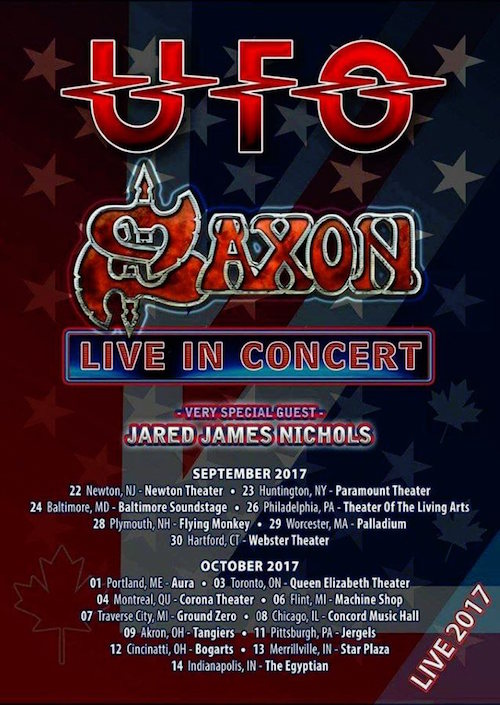 Due to demand following their hugely successful tour together in March and April, hard rock icons UFO and Saxon have announced more dates in the U.S., plus two in Canada, in September and October.
UFO, featuring the long-standing line up of Phil Mogg (vocals), Paul Raymond (keyboards, guitar), Andy Parker (drums), Vinnie Moore (guitar) and Rob De Luca (bass), is currently working on a covers album after the last studio release, 2015's A Conspiracy Of Stars.
Saxon is touring in support of its latest release, Battering Ram, and the live DVD Let Me Feel Your Power. The band is currently in the studio working on a new studio album for an early 2018 release. Saxon is: Biff Byford (vocals), Paul Quinn (guitar), Nigel Glockler (drums), Doug Scarrett (guitar) and Tim "Nibbs" Carter (bass)
Mogg comments, "Seldom do you get the chance to have a tour with such great bands and great personalities. We have been offered such a chance and will be grabbing it with both hands.
We are looking forward very much to our autumn tour with the lads from Saxon, Biff, Paul, Doug, Nigel and Nibbs, Jared James, Eric and Dennis, just so you know everyone. I hope you enjoy these gigs as much as we will, rocking/kicking, your proverbial arse/bottom. Love, UFO."
Buford adds, "It's great to be coming back with UFO. We had such a great time on the last tour. It's a great package with three great bands. What's not to like? BRING IT ON!"
Special guest on all shows is Jared James Nichols.
Tour dates are as follows:
September:
22 – Newton, NJ @ Newton Theater
23 – Huntington, NY @ Paramount Theater
24 – Baltimore, MD @ Baltimore Soundstage
26 – Philadelphia, PA @ Theater Of The Living Arts
28 – Plymouth, NH @ Flying Monkey
29 – Worcester, MA @ Palladium
30 – Hartford, CT @ Webster Theater
October:
1 – Portland, ME @ Aura
3 – Toronto, ON @ Queen Elizabeth Theater
4 – Montreal, QU @ Corona Theater
6 – Flint, MI @ Machine Shop
7 – Traverse City, MI @ Ground Zero
8 – Chicago, IL @ Concord Music Hall
9 – Akron, OH @ Tangier CabaretRoom
11 – Pittsburgh, PA @ Jergels
12 – Cincinnati, OH @ Bogarts
13 – Merrillville, IN @ Star Plaza
14 – Indianapolis, IN @ The Egyptian