U.D.O./DIRKSCHNEIDER WELCOME PETER BALTES ON BASS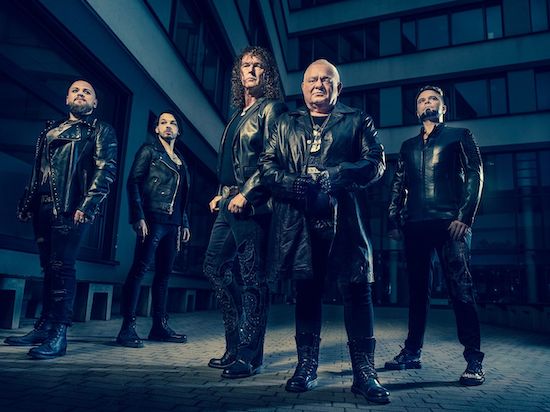 2022 was an eventful year for U.D.O. After the release of singer Udo Dirkschneider's first solo album, My Way, on April 22nd, 2022 through Atomic Fire Records, the quintet played a few select summer dates before embarking on a three-month monster tour leading them all across Europe as well as Latin American shores. Unfortunately, bassist Tilen Hudrap was forced to step back from performing live with the band in early September due to health reasons. The heavy stroke of fate for U.D.O. opened the stage for Udo's long-time friend Peter Baltes. Baltes, who played with him for many years in his former band Accept, which the bassist left in 2018, and had already collaborated with Udo as part of Dirkschneider & The Old Gang in recent years, was available to jump on the trek just a few days after Hudrap's departure and stayed on through November. Originally only a temporary solution, it became clear over time that the band would have to find a new band member on bass instead. Today, U.D.O. are pleased to announce that Peter Baltes has joined their ranks with his live premiere taking place in Australia and Japan during the last few days. The current U.D.O..Dirkschneider itinerary can be found below.
Baltes says, "Since my departure from Accept I kept myself very busy writing and recording for film/TV productions and various artists around the globe. That's how I reconnected with Udo working on his solo album My Way, the U.D.O. album, We Are One, and the D&TOG album, Arising. Since Stefan Kaufmann [guitars; ex-Accept drummer] was also involved, it all had a very familiar feeling.
That's why when Udo called me in September to fill in for his injured bass player I did not hesitate. The set list had mostly U.D.O. songs which I was not familiar with and a few Accept tunes. When I arrived in Berlin a few days later for the first show, I was nervous and had no idea what to expect.
But as soon as we all took the stage standing next to Udo, it felt like home: His voice took me right back to where it all began. It was a total surprise for the audience at first, but as we played on I realized they where as happy as I was to see Udo and me together again.
Over the next three months, I really got to know Sven, Dee and Andrey as extremely talented musicians but also as very humble and respectful guys. It all feels very authentic.
That made my decision to say 'yes' very easy when Udo asked me to join the band permanently."
Udo Dirkschneider adds, "I have a very long friendship with Peter Baltes which has never been shadowed by the disagreements with Accept over the past few years. The arguments were exclusively with another person and his wife. It should be clear to everyone who is meant! All other Accept members have always been united in friendship.
It meant a lot to me when Peter spontaneously helped us out on some U.D.O. tour dates last year. From the first day, I experienced the great feeling and trust from the past with him again. A feeling that always connected us throughout the years in Accept.
I'm aware that Peter had many lucrative offers from other bands on the table, all of which he had turned down over the years. To be honest, he can't earn these sums with us. It means even more to me that he still decided to stay with U.D.O. and to also join Dirkschneider as bassist. This shows me that he has a real metal heart beating in his chest and that friendship and fun are more important to him than money. Thank you, Peter. We are very happy that after so many years you are finally having fun on stage again."
My Way Track Listing:
1. Faith Healer (Alex Harvey)
2. Fire (Crazy World Of Arthur Brown)
3. Sympathy (Uriah Heel)
4. They Call It Nutbush (Tina Turner)*
5. Man On The Silver Mountain (Rainbow)
6. Hell Raiser (The Sweet)
7. No Class (Motörhead)
8. Rock And Roll (Led Zeppelin)
9. The Stroke (Billy Squier)*
10. Paint It Black (The Rolling Stones; Edit)
11. He's A Woman, She's A Man (The Scorpions)
12. T.N.T. (AC/DC)
13. Jealousy (Franke Miller)
14. Hell Bent For Leather (Judas Priest)
15. We Will Rock You (Queen)*
16. Kein Zurück (Wolfsheim)*
17. My Way (Frank Sinatra)
*Udo Dirkschneider Version
U.D.O./Dirkschneider live:
05.05.2023 NO Kopervik – Karmøygeddon Metal Festival*
07.05.2023 AT Wiener Neustadt – Wildstyle & Tattoo @ Arena Nova
14.05.2023 AT Innsbruck – Wildstyle & Tattoo @ Messehalle
21.05.2023 AT Vienna – Wildstyle & Tattoo @ Stadthalle
08.06.2023 SE Sölvesborg – Sweden Rock Festival
10.06.2023 FI Laihia – Lisää Löylyä Festival
16.06.2023 DE Augsburg – Metal am Kiez*
18.06.2023 BE Dessel – Graspop Metal Meeting*
14.07.2023 DE Balingen – Bang Your Head!!!*
21.07.2023 DE Pförring – Open Air Pförring
12.08.2023 ES Villena – Leyendas del Rock*
17.08.2023 CZ Moravský Krumlov – Rock Castle Open Air
20.08.2023 CH Vallamand (VD) – Rock The Lakes
16.09.2023 DE Tuttlingen – Beast of Rocks @ Stadthalle
07.10.2023 DE Würzburg – Keep It True Rising III @ Posthalle*
22.10.2023 AT Linz – Wildstyle & Tattoo @ Tabakfabrik
29.10.2023 AT Salzburg – Wildstyle & Tattoo @ Messezentrum
*as Dirkschneider
Get tickets: here, and order My Way (limited earbook edition & more), here.
U.D.O./Dirkschneider are:
Udo Dirkschneider | vocals
Andrey Smirnov | guitar
Sven Dirkschneider | drums
Fabian Dee Dammers | guitar
Peter Baltes | bass
Follow online at: Official Website, Facebook, Instagram, Twitter and Youtube.