MIKE TRAMP SAYS HIS RELATIONSHIP WITH FORMER WHITE LION GUITARIST VITO BRATTA, "[IS] REALLY GOOD NOW"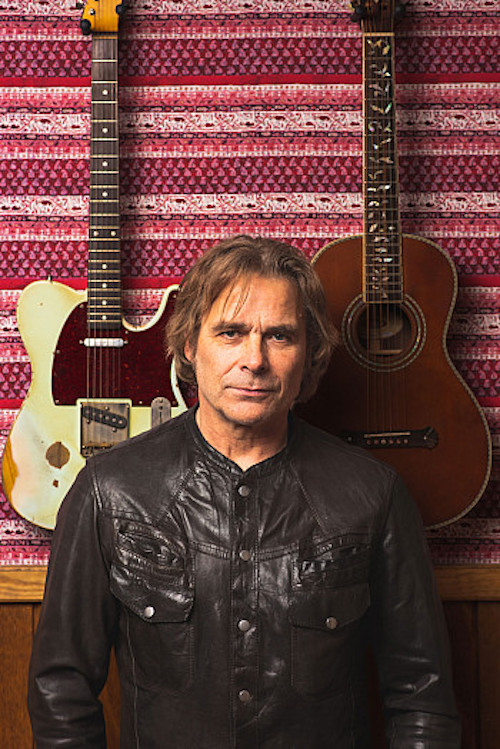 Greg Prato of Songfacts spoke with singer Mike Tramp about his Songs of White Lion recording and tour. Excerpts, from the interview, appear below.
Songfacts: How did the idea come up to do the Songs Of White Lion album?
Mike Tramp: The main reason is that I have carried that "backpack" since basically the early '90s. I ended the band in '91, and for three years – '92 to '95 – I had a band called Freak Of Nature, and released three albums. And when I went solo with my first solo album in '97, everywhere I went half the poster said "From White Lion" or "The Voice Of White Lion." Even some banners on the first American club tour that I did announced me as "White Lion." So, it's been an ongoing running away/chasing this past.
At times, I had been called back into duty to resume the White Lion position as just me. And the times before when I did Tramp's White Lion, I made the decision but I wasn't ready in my heart to do it. After a few years and lawsuits with Vito, and people using the name more than they should and stuff like that – especially in announcing concerts – I pulled back. Since then, I recorded 10 more solo albums, but no matter where I go, people are lazy and concert promoters are constantly pushing, "Are you playing any White Lion songs? The fans want to know if you're playing White Lion songs." No matter what I do.
So, I came to the conclusion that if I'm going to play White Lion songs, I have to play them 100% the way they are, because my solo albums and my solo band is like Tom Petty or Springsteen – it has nothing to do with the '80s sound and world. So that band doesn't really do that and we don't play those songs correctly. So I started messing around with how I could do that, and also finding a way for me to sing these songs, since I'm not 26 anymore – I'm the opposite, I'm 62. I wanted them to feel like they're here today and not like a dinosaur brought back to life with some assistance from technology.
Songfacts: Are there any versions that you prefer over the original?
Mike Tramp: Well, yes. Basically all of them.
Of course, if I hadn't written these songs with [guitarist] Vito Bratta and we hadn't gotten the success in '87 and '88 with the Pride album and everything exploding from there, I wouldn't be here talking to you today about this. But you know what? When you get a second chance to do something, you do it different. I'm going into this project with 35 years of knowledge. I have sung these songs in 20 different versions: acoustic guitar, piano, whatever. So when I'm now in my studio singing these songs, I own the songs today before the songs owned me, and I kind of follow along.
Now I'm so comfortable in those songs that I just sit there with them and put them into the track and feel at home with them. So, your basic question of if I like these versions better, there are a couple of songs that I've given a little bit of a kick in the ass. When White Lion went in to record the Big Game album in '89, we'd been on the road for two years. The Pride album had been in our live set for three years before we even recorded the album, and then Vito and I were given just two weeks to write the Big Game album.
That is extreme. We needed half a year off, we needed hair treatments for our abused hair, we needed just to breathe. We needed the vocal cords to relax, stuff like that. We didn't get that.
By the time we go in to record the Big Game album, which is our follow-up to a massive success, money is coming in from all the other stuff we have done. When we went in to record Pride, we lived in a one-bedroom apartment, we had no money. Now, we're sitting there talking about what sports car we're going to buy today, and I'm going to extend the forks on my Harley-Davidson, stuff like that. We're in the wrong place. So, there are some great songs on the Big Game album, but they're unfinished.
Songfacts: Why do you think White Lion was unable to sustain the success of Pride?
Mike Tramp: I'll definitely not put the blame on me or the band. This is really where the people that collected the commission and the percentages for their work did not show up. There were mistakes from the record company along the way, and as I'm a massive fan of nostalgia and have read hundreds of biographies and own almost every documentary a band has done, in many ways the story gets repeated over and over and over.
A lot of people within our camp – including our record company – were surprised that Pride became a success [the album peaked at #11 on the Billboard 200 and earned double platinum certification]. The record company did not want to release When The Children Cry as a single, and we pushed so heavily for it, and it came out and became a worldwide hit, [peaking at #3 on the Billboard Hot 100] and still today is our biggest song.
Then, when we go in to start recording the Big Game album, it's already pre-ordered a half million. It's going Gold the day the record comes out in the stores, so people get this false sense that it's going to be five times as big, so they slack off and they don't focus as much.
We had an episode where the two big cheeses from Atlantic Records come out to the studio to hear the songs, and it's that classic scene in the studio: lights dim, speakers cranked up. At that volume, everything sounds and feels right. Thirty years later, the story comes out that when they get out in the car, the big boss asks the smaller boss, "Why are you letting them do this?"
Why doesn't he either drive the big boss home and get back to the studio and say, "Guys… time out. Restructure. Let's just look at this – where are we?" No.
And we're "the emperor's new clothes" at that time. We're under the impression that, "Hey, this is going to be great. This is going to be big." We're continuing. More trucks, more clothes, more everything.
Songfacts: When was the last time you corresponded with Vito Bratta, and how would you describe your relationship currently?
Mike Tramp: Thank God it's really good now at the moment. We've gotten to this place where we're sort of at peace. We were speaking by email the last two weeks – there was some old paperwork that needs to be settled and stuff like that.
I don't know if the next question is going to be this, but we're not going to reunite White Lion. We both don't think it would be as great as the White Lion that existed. That is, of course, not to say that we couldn't collaborate and do something if Vito wanted to.
If we do something, it would probably be more like when Jimmy Page and Robert Plant got together. They didn't call it Led Zeppelin, but they went to Morocco and they did versions of the old songs and did something sideways so that it is not a continuation. Because you can't continue that old band.
Read more at Songfacts.
The Songs Of White Lion tour dates:
May:
2 – The Strand Theater – Hudson Falls, NY
3 – 89 North Music Venue- Patchogue, NY
4 – Debonair Music Hall – Teaneck, NJ
5 – M3 Rock Festival – Columbia, MD
6 – Private Event – Southampton. PA
7 – M3 Rock Festival – Columbia, MD
9 – Three Flags Ballroom – Warren, PA
11 – Hard Rock Cafe – Pittsburgh, PA
12 – BMI Event Center – Versailles, OH
19 – Jamie's Outpost – Utica, IL
20 – Arcada Theater – St. Charles, IL
21 – The Hotspot – High Ridge, MO
25 – Tiki Beach Resort – Mosinee, Wi
26 – Epic Event Center – Green Bay, WI
June:
1 – Sunset Bay Beach – Irvine, NY
2 – Sharkey's – Liverpool, NY