TWISTED SISTER'S JAY JAY FRENCH ON THE BAND LOSING THEIR STAGE MAKEUP "I THOUGHT IT WAS GOING TO BE A CLUSTERF-K "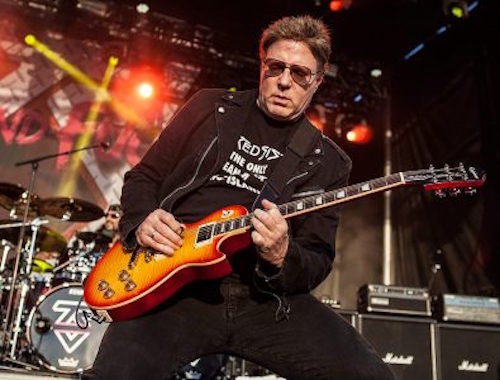 Ruben Mosqueda of Sleaze Roxx spoke with Twisted Sister guitarist Jay Jay French. Highlights from the interview appear below.
Sleaze Roxx: Twisted Sister is coming to an end. You have a new DVD coming out on July 22nd, titled Metal Meltdown. It's beautifully shot, if I can say that. I know there were other bands that performed in Las Vegas that same night.
Jay Jay French: Yeah, we were approached by a producer that wanted to know if we wanted to shoot a state of the art concert. We actually thought that last year was going to be our last year. Dee [Snider] and I were having a conversation about this DVD being a good way to go out. This was before A.J. [Pero] passed away. I have to add that the title of the DVD in the initial press kit was incorrect. It will be titled Twisted Sister: Live in Vegas — In Memory of A.J. Pero. So we agreed to do that DVD and then A.J. died and we were faced with a number of choices. The first was not to go on at all. The second was to use this performance as some sort of closure. We elected to push forward with the recording of the DVD.
There's a lot of stuff out this year on Twisted Sister. We have the number one documentary on Netflix right with We Are Twisted F–king Sister. We have live stuff from the club days and up next is this beautifully shot DVD, which will be issued by Loud & Proud [Records]. We'll likely have something else on shelves at the end of this year since this is our last year.
Sleaze Roxx: Jay Jay, you're in "street clothes" on the new DVD and you've been performing like that for a bit. What inspired you to drop the costumes and make-up?
Jay Jay French: We've been performing without costumes and make-up for about eight years now. The story behind that is a comical actually. We had no intention to do that. We were on a huge festival in Europe. We were actually on a festival with KISS. We were looking forward to going "mano a mano" with KISS. They're a New York band and we're a New York band but we've never crossed paths. We were really looking forward to it.
Dee was flying in and his flight was running very late. He arrived in Amsterdam about an hour before show time and there was no way to get him to the venue. We were on the other side of Holland. We were sitting around in our t-shirts and jeans and we figured the show isn't going to happen. It was a crazy bill. I recall it was REO Speedwagon, KISS, Motorhead, Whitesnake, Def Leppard, Twisted Sister and Journey all on one bill.
So we're sitting around figuring we're not doing the show. We're supposed to be on stage in 15 minutes and the promoter comes in and says "We'd better be on stage in 15 minutes." I hadn't been spoken to like that since the club days when I was dealing with a mob club owner. Just then, Dee shows up. Our tour manager rented a helicopter to get Dee to the show. The only problem was that the helicopter wasn't big enough to fit Dee, the pilot and Dee's suitcase. So Dee is in t-shirt and jeans, so we all went on stage in t-shirts and jeans [laughs] The next day the local newspaper is quoted as saying that Twisted Sister delivered a "near religious experience." So, it was at that moment that we stopped wearing make-up and costumes. I was waiting for the influx of emails to roll in. I thought it was going to be a clusterf-k and a year later, I received an email saying "I thought you guys wore make-up?" One. One email, that was it.
Sleaze Roxx: I have to ask as a fan. When you were wearing the make-up and the costumes. How long did it take you to get ready for a show?
Jay Jay French: Oh, I'd say we'd be ready within like 20 minutes. I could do it in 10 minutes if I had to. Dee would need 30 minutes if he had to. I mean it's like a hooker. I mean how long does it take a hooker to get ready for the next trick? [laughs] Pretty fast! [laughs].
Sleaze Roxx: You're a founding member, songwriter, leader and at one point, lead singer of the band. You bring Dee on board. Dee showcases his skills as a songwriter. He's a charismatic performer and evolves into the face of the band. Was that a hard transition for you?
Jay Jay French: I had it with singers at one point, so I sang myself. [laughs] I didn't have a hard time with that. I was the last guy to join the original line-up. I wasn't brought in to sing. The band already had a lead singer. I didn't write songs. Those pieces were already in there. I had a role to be the guitar player in a "glitter" band. That's all. I was pretty content in that role. I had no idea that I would later evolve into a manager. I knew my limitations and I always knew I needed a singer. A smart business person knows what they can do and knows what they can't do.
Sleaze Roxx: Stay Hungry is your signature record. In 2004, you recut the entire record and retitled it Still Hungry. There's stories that the band was unhappy with the production. Was it that or was it a licensing thing?
Jay Jay French: And don't forget we added nine new songs! [laughs] So it was two fold. The record contracts we signed were horrible as were the record contracts for 99% of the bands. The labels will try to screw you in anyway that they can. The one thing is that you can re-record your music after five years. So by recutting the songs, we could license things ourselves and keep the money. So with most music that you hear in commercials, when you hear a song, the band went back and re-recorded it to license the song. We just went and did the whole record because so much of that material was turning up on TV ads, television shows and movies. And the band didn't like the way we sounded on the original album. It sounded weak, wimpy and just not heavy enough. So having said that, it certainly didn't stop the record from becoming a hit worldwide.
Read more at Sleaze Roxx.
source: sleazeroxx.com