BASSIST JEFF PILSON REVEALS THAT HE AND GUITARIST GEORGE LYNCH HAVE WRITTEN ONE NEW DOKKEN SONG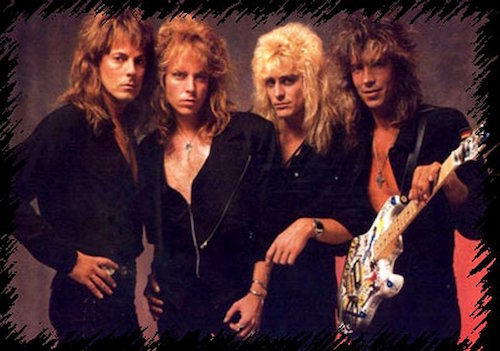 As previously reported, the original line up of Dokken will be reuniting for a series of live shows in Japan. Bassist Jeff Pilson was recently interviewed by his own blog. A few key quotes from the interview appear below.
Q:…Many fans hold Beast from the East in high regard as a live recording release. As time has passed, more and more bands have disclosed their studio editing to their live albums… how "live" was that Dokken release?
Jeff Pilson: Not as live as it probably could have been. Personally I think we may have gone a bit overboard in fixing it, but it did come out good. Funny thing is, I have the original live board tapes which, though there are mistakes, etc., actually have a better energy to them. Oh well.
Q:…Once you get to Japan, do you and [guitarist] George [Lynch] have any Scrotum Sound Studio sessions planned back at the hotel for any creative work?
Jeff Pilson: Not really, but he did come over two days ago and we wrote the music to a new track that I sent to [singer] Don [Dokken] yesterday. The plan is, hopefully, to somehow record one song before the tour to include as part of the packaging. The song we wrote is awesome, I can't wait to hear what Don does to it.
Q: You know fans & promoters around the world will be hoping for more, especially if the magic is back in Japan – is that something you are even considering personally?
Jeff Pilson: Well again it comes down to, for me, scheduling. Foreigner has our big 40th anniversary tour next year, so that's a factor. Plus, Don is saying he's really only interested in doing it in Japan, so [I] guess that's it. I'd certainly be open to doing more if it could work out, but if it's just Japan- I'm fine with that too.
Q:…What about recording with Dokken? Could that be a creative outlet for you and George to continue making great music with Don and [drummer] Mick [Brown] without the pressure of touring together?
Jeff Pilson: That's something I would truly enjoy and know George thinks that as well. But let's just take it one step (or song) at a time. I do hope this new song comes out as good as I imagine.
Read more at jeffpilson.wordpress.com.
source: jeffpilson.wordpress.com