TWISTED SISTER CELEBRATES 40 YEARS WITH THE BEST OF THE ATLANTIC YEARS AVAILABLE AUGUST 28TH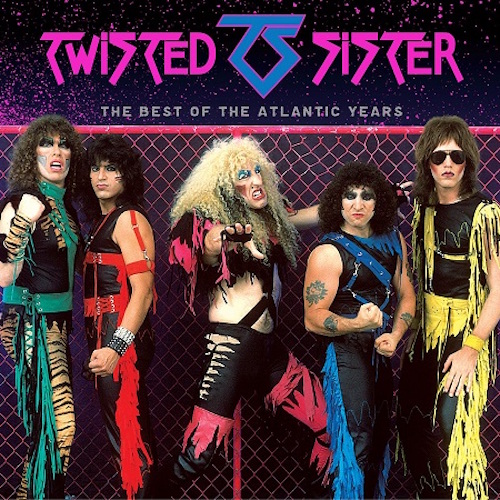 Twisted Sister's high-decibel anthems, raucous shows and memorable videos took the hard-rocking quintet from playing bars in the Seventies to headlining festivals in the Eighties. The band, which has sold more than 10 million records worldwide, is celebrating its 40th anniversary this summer with one final tour.
To honor this hairy, scary and legendary band's legacy, Rhino will release a 19-song collection that spotlights Twisted Sister's best, including the group's biggest hits – I Wanna Rock and We're Not Gonna Take It. In addition, the compilation will feature the band's previously unreleased cover of Steppenwolf's Born To Be Wild. Twisted Sister: Best Of The Atlantic Years will be available on August 28th on CD ($18.98) and digitally.
In 1982, after years of honing their craft in New York-area clubs, Twisted Sister released their debut album, Under The Blade. Produced by UFO bassist Pete Way, this hard-hitting rock 'n' roll manifesto exploded with riffs and street-tough attitude on What You Don't Know (Sure Don't Hurt You), I'll Never Grow Up Now! and Sin After Sin.
The core lineup – singer Dee Snider, guitarists Jay Jay French and Eddie Ojeda, bassist Mark Mendoza and drummer A.J. Perro – returned a year later with the group's Atlantic Records debut, You Can't Stop Rock N' Roll, which became the band's first gold record. This new collection highlights three songs from the album: I Am (I'm Me), The Kids Are Back, along with the title track.
Stay Hungry was Twisted Sister's third and best-selling album. Released in 1984 and produced by Tom Werman (Ted Nugent, Cheap Trick), the album went multi-platinum in the USA, with sales of more than three million. The album is well represented on Best Of The Atlantic Years with six songs: I Wanna Rock, The Price, SMF, The Beast, Burn In Hell and We're Not Gonna Take It.
The second half of the compilation focuses on the band's last two releases on Atlantic Records: the gold-certified Come Out & Play (1985) and Love Is For Suckers (1987). Among the highlights are: You Want What We Got, a cover of the Shangri-La's Leader Of The Pack, Hot Love and Love Is For Suckers.
TWISTED SISTER: BEST OF THE ATLANTIC YEARS
CD Track Listing:
1. What You Don't Know (Sure Can Hurt You)
2. I'll Never Grow Up, Now!
3. Sin After Sin
4. You Can't Stop Rock N' Roll
5. I Am (I'm Me)
6. The Kids Are Back
7. I Wanna Rock
8. We're Not Gonna Take It
9. The Price
10. S.M.F.
11. The Beast
12. Burn In Hell
13. Come Out And Play
14. Leader Of The Pack
15. The Fire Still Burns
16. You Want What We Got
17. Hot Love
18. Love Is For Suckers
19. Born To Be Wild – Previously Unreleased