TRIXTER GUITARIST STEVE BROWN RELEASES FIRST SOLO RELEASE, "WHERE DO WE RUN" SINGLE NOW AVAILABLE ON ALL DIGITAL PLATFORMS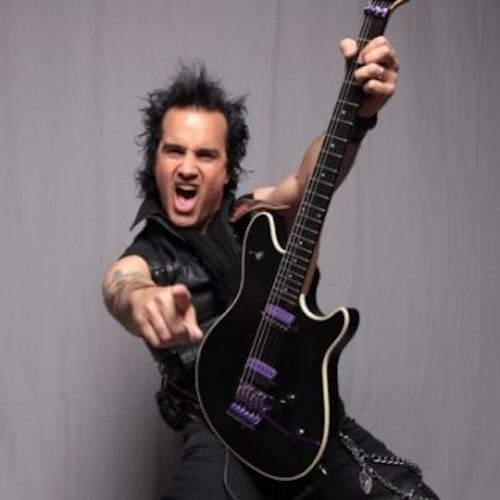 Veteran guitarist and singer-songwriter, Steve Brown (Trixter, Def Leppard, Dennis DeYoung), has just dropped his inaugural solo single and accompanying music video (to be released on August 19th), for the song Where Do We Run. Not only does he shine with his lead vocal and melodic guitar playing, he also produced, engineered and mixed the track himself. Brown draws fans in for an intimatepeek at his prolific songwriting style, while showcasing his versatility on the other side of the recording booth.
Where Do We Run features a Classic Rock vibe reminiscent of Led Zeppelin and Jimi Hendrix, while invoking Pink Floyd-esque riffs. "The song shows some of my biggest influences from stellar guitar player/vocalists like Richie Sambora (Bon Jovi), Steve Lukather (Toto), Peter Frampton, John Sykes (Whitsnake, Thin Lizzy), and the late, great Gary Moore," says Brown.
The idea for Where Do We Run was first born in 1994, when Brown built his home studio, Mojo Vegas-6160. "I was writing a few songs to pitch to movies and Where Do We Run seemed like the perfect song for a dark love story. I had my hands in a lot of projects back then and it just got put on the back burner. I rediscovered the song in 2020, while I was completing the second album, Lions for Tokyo Motor Fist. Upon hearing it again, I remembered how much I loved this song. With today's political and emotional climate, I felt it is more relevant than ever and the world needed to hear it." Where Do We Run strikes a chord with the challenging times we are all living in. It runs through the gamut of emotions. It is a tale of yearning, agony, reflection, love, loss, but most importantly, hope.
"For my first official solo release ever, I wanted to show a different side of my sound both vocally and musically, and not the obvious arena rock production that I'm known for," said Brown. Where Do We Run is more of a Classic Rock production, laced with natural and authentic sounds. I brought my dear friend's, Joey Cassata on Drums (ZO2,Transsiberian Orchestra), Eric Ragno on keys (Graham Bonnet, The Baby's), Chris Lester on Bass (Sunny Erna'a Avalon, Zenboy) to completely take this track into the stratosphere."
The song may be inspired by the Classic Rock sound of yester year, but its captivating lyrical content, infused with rich, layered melodies and ethereal tones, delivers it to our present-day doorstep – gift wrapped and tied with a big, fat alluring bow. Like a sign ofthe times, Where Do We Run is haunting, yet beautiful, with a dose of aspiration we all could use.
Steve Brown was born and raised in New Jersey destined to live a life submersed inmusic. The mostly self-taught artist picked up his first guitar at 8 years-old and never looked back. Steve began his life-long love affair with live performing at the ripe oldage of 12, when he became a regular on the voltaic NJ rock scene of the 1980's. At 12years-old, he began writing music, lyrics and founded his first band, Trixter. It wasn't long before Steve led the the band to a record deal with MCA records, sold out arena tours and living every aspect of the rock and roll dream.
In his over 35 year career, Steve has sold over three million records worldwide, starred in three number one MTV videos, and shared the stage with the likes of KISS, Van Halen, Journey, Alice Cooper, Deep Purple, Scorpions, David Lee Roth, Poison, Cheap Trick, Styx Boston, Duran Duran, Night Ranger, Rick Springfield and Tesla. As not only a master guitarist, but as an accomplished songwriter, singer, engineer and producer working with Mike Shipley (Def Leppard, Shania Twain), James "Jimbo" Barton (Rush, Aerosmith, KISS, Metallica), Skidd Mills (ZZ Top, 3 Doors Down), Brian Malouf (Queen, Pearl Jam), Bill Wray (Loverboy, Diana Ross) and Jack Ponti (Bon Jovi, Alice Cooper). Steve has become one of the music industry's most sought-after and entrusted talents. From personal endorsements by Eddie Van Halen to churning out original music for some of television's most popular hits, to regularly hitting the stage with an ever-growing list of rock and roll greats, Steve Brown is in constant demand. Most recently, Steve hasplayed with Dennis DeYoung (formerly of Styx), Rock & Roll Fantasy Camp, Joe Lynn Turner (formerly of Rainbow, Deep Purple, Yngwie Malmsteen), and on Broadway in the hit musical Rock Of Ages. In 2013, Steve was invited to be the substitute guitarist for Vivian Campbell in the legendary Def Leppard, which led to him joining the band at the historic Wembley Stadium along with many other arena and stadium shows throughout North America. In May of 2018 he pulled off a job never done before when was called in with 24 hours notice to aid, Phil Collen, for three shows. Thus giving him the distinct honor of covering duties for both Def Leppard guitarists. A stunt he would later repeat in early 2019 for Dennis DeYoung. This has never been done before in the illustrious world of rock. A true testament to Brown's talent, loyalty and love for his craft.
Steve currently fulfills his gigs with Trixter, Dennis DeYoung, Wizards Of Winter, Danger Danger, Eric Martin (Mr. BIg), comedian Jim Breuer, Rubix Kube, Braodway's Rock Of Ages Band, Tokyo Motor Fist and Def Leppard, while continuing to cultivate his ever-expanding expertise, experience and true passion for all that is music.
During 2020-2021 , Steve had six albums and three singles digitally released: Tokyo Motor Fist Lions, Trixter's New Audio Machine and Human Era, Stereo Fallout The Other Side, 40Ft. Ringo Funny Thing," the KISS cover tune A Million to One , Rockin' Christmas Time (single) & his forthcoming latest track, Where Do We Run"
For more information on Steve Brown, visit his official website.