TOM WERMAN TO RELEASE "TURN IT UP! MY TIME MAKING HIT RECORDS IN THE GLORY DAYS OF ROCK MUSIC," ON NOVEMBER 21ST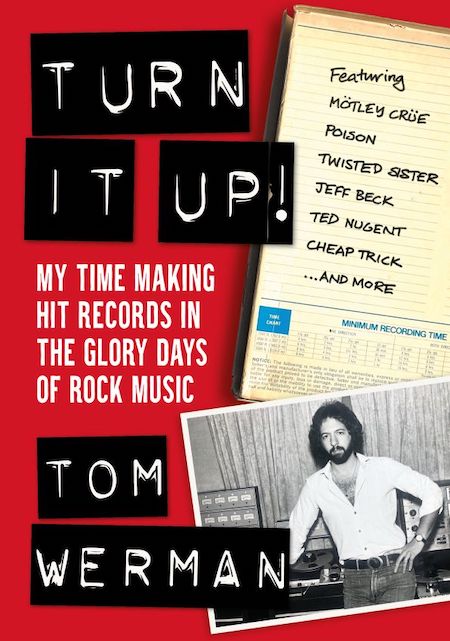 Jawbone Press will release, Turn It Up! My Time Making Hit Records In The Glory Days Of Rock Music, the new book from legendary rock producer Tom Werman, on November 21st.
As described on their official site:
Growing up in the Boston suburbs, Werman was deeply affected by pop music from a young age. He long dreamed of a career in music — first as Elvis Presley, then as the next George Harrison — but it almost didn't turn out that way. Dutifully following the path his parents had laid out for him, he obtained an MBA from an Ivy League university and took a plum job in an industry he came to despise. Then, in 1970, a chance letter sent to CBS Records boss Clive Davis led to a new opportunity — and a place in rock 'n' roll history.
As an A&R man at Epic Records, Werman helped introduce the world to Red Speedwagon, Boston, Ted Nugent and Cheap Trick; he also discovered KISS, Rush and Lynrd Skynyrd, but his record label passed on all of them. Then, as an independent producer, he oversaw landmark albums by Mötley Crüe (Shout At The Devil),Twisted Sister (Stay Hungry), Jeff Beck (Live With Jan Hammer),Poison (Open Up And Say … Ahh! ),and many more. All in all, his record-making résumé includes twenty-three gold- or platinum-selling albums and cumulative sales of more than fifty-two million copies.
After bearing witness to several sea changes in the music industry, Werman retired from producing in 2001 and reinvented himself as an award-winning innkeeper in the Berkshire Hills of Massachusetts. And that might have been that, until an overly critical review led to a fortnightly column on a music web site and now this book — an honest and engaging insider account on how some of the best-loved albums of the 1970s and 80s came to be. A must for anyone interested in the glory days of rock and metal, Turn It Up! offers valuable insights into the recording process, the recording studio, the role of the producer, and the production values that are essential to the creation of a hit record.
In addition to Every Rose Has Its Thorn, some of Werman's evergreen productions include Poison's Nothin' But A Good Time, Twisted Sister's We're Not Gonna Take It and I Wanna Rock, Mötley Crüe's Girls, Girls, Girls and Cheap Trick's Surrender, among many others.
Pre-order is available at: Amazon and Barnes & Noble.