THREE DECADES LATER, GUITARIST ACE FREHLEY REFLECTS ON "FREHLEY'S COMET"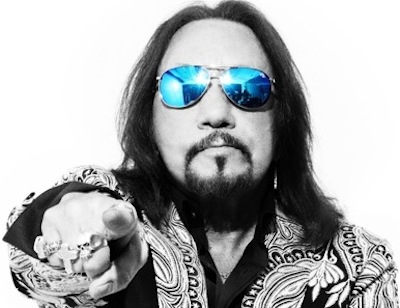 Matthew Silkening of Ultimate Classic Rock reports:
Five years after his unceremonious and somewhat mysterious departure from KISS, guitarist Ace Frehley made a long-awaited return with a new band and album — both named Frehley's Comet.
"I was on a downward spiral and really needed to get away from the whole music business, and try and get a grasp on reality and take a step back," Frehley told the San Diego Union Tribute when looking back on his 1982 departure from his former group. "I'd really lost my identity, being 'The Spaceman' in KISS for so long. I needed time to be away from that character and the whole crazy world of touring."
A couple of years later, Frehley began to get a solo band together and perform in the New York City area. "He had been doing live shows, selling out two-night stands at L'Amour in Brooklyn," radio host Eddie Trunk, who at the time was working at Megaforce records, tells Ultimate Classic Rock. "So, he was out there but nobody had really had many dealings with him. A lot of people hadn't even seen him without his makeup yet."
"Every time I bumped into a fan, the first thing out of their mouth was, 'When are you going to come out with your own record?'" Frehley tells Ultimate Classic Rock. But major internal and external changes had taken place during the half-decade the guitar hero was out of the public eye…
…[One] would think that any doubts Frehley had about his ability to handle all the lead vocals and songwriting on a record would have gone away after the high praise and commercial success he earned with his solo debut — universally judged to be the best of the albums simultaneously released by the four members of KISS in 1978.
But that was not the case at all, and instead of initially presenting himself as a solo artist, Frehley chose to return as part of a group, sharing those duties quite liberally with his bandmates. "It basically stems from my insecurity," he explains. "After being in one of the biggest rock bands in the world, I felt a little insecure about embarking on a career and having all the weight be on my shoulders. So I said to the guys, 'I want this to be a band, I don't want it to just be me with three cover guys…"
…As Trunk notes, some labels were hesitant about working with Frehley. "There was a lot of talk out there about his condition, his sobriety," he recalls. "There were a lot of people out there who were afraid to touch him, even though they knew he could sell some records. But I said, 'Let's track him down and make our own assessment,' and that's what we wound up doing."
With legendary producer Eddie Kramer — who had worked with Kiss and on Frehley's 1978 solo record in the past — on board to co-produce the album, Frehley supplemented his core group of drummer Anton Fig and bassist John Regan with multi-instrumentalist Tod Howarth, who would up singing lead on three tracks.
"Myself and John both suggested Tod," Trunk explains. "He had done some work with Cheap Trick, as an offstage keyboard player and utility guy. Ironically, there's a song on the first record that's a rewrite of [Howarth's former band] 707's song Megaforce. Ace said, 'I feel stupid singing a song about my record label.' So they rewrote it a bit, and changed the title to Calling to You."
Frehley's former Kiss bandmate Eric Carr also joined in on the songwriting fun, earning a co-credit for Breakout. "Even after I left Kiss, Eric and I stayed in touch," Frehley reveals. "I went down to his apartment in Manhattan, and we decided to collaborate on a few song ideas, that's where Breakout came from." (In 1992, following the death of Carr, KISS updated and released the drummer's original demo of the song, complete with an extended drum solo, as Revenge's Carr Jam 1981.)
After the Top 20 chart success of Frehley's 1978 cover of New York Groove, the decision was also made to include a cover of Into the Night, another song written by the same artist. "We were trying to mine gold a second time there," Trunk admits, "because New York Groove was also a Russ Ballard song. So we thought maybe lightning would strike twice…"
…Trunk says Atlantic's record department ultimately got final say there too, deciding that Into the Night was the more mass appeal song. "I know Gene Simmons called [Megaforce president] Johnny Z. when Into the Night came out, and he said something like, 'Nice job with Ace, but you blew it. Rock Soldiers should have been the first single.' And he was probably right."
After the release of Frehley's Comet, the group launched its first major tour, which, in the pre-internet era, gave most KISS fans their first look at Frehley. "It was strange, there hadn't been that many photographs of me without makeup," he remembers. "I wasn't sure how fans were going to receive me. It took a little while to get comfortable onstage, but not that long. Obviously, the fans accepted me without makeup, so that was just a period of adjustment."
Although he jokes that being reminded Frehley's Comet is now 30 years old is "making me feel old," Frehley has nothing but good things to say about the album. "That was a great record, I was happy with the way that came out. I'm still proud of that record."
Read More at Ultimate Classic Rock.
source: ultimateclassicrock.com