THIRD ANNUAL "RIDE FOR RONNIE" MOTORCYCLE RALLY & CONCERT SET FOR SUNDAY, MAY 7TH TO BENEFIT RONNIE JAMES DIO STAND UP AND SHOUT CANCER FUND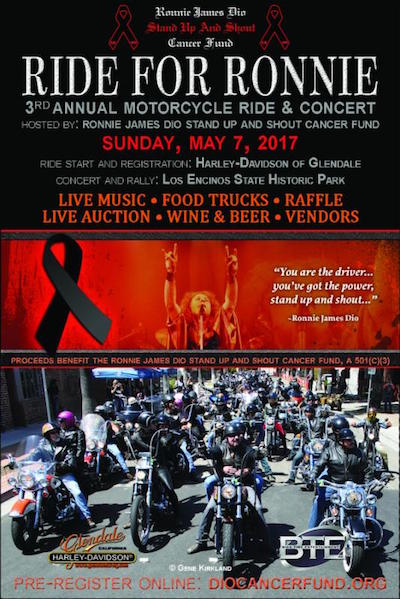 The third Annual Ride For Ronnie Motorcycle Ride and Concert, benefiting the Ronnie James Dio Stand Up and Shout Cancer Fund, will take place on Sunday, May 7th, 2017.
Riders will assemble for a continental breakfast at Harley-Davidson of Glendale with kickstands up at 11AM. The ride will take them through the streets of Los Angeles County to Los Encinos Park in Encino, where they will be treated to an afternoon of live music, raffle and live auction, food trucks and more. Last year's Ride For Ronnie event raised over $50,000 for the cancer charity.
This year's live entertainment in the park will be provided by Lynch Mob, Eddie Money, Rough Cutt, Dio Disciples, The Loveless, Sonia Harley and No Small Children.
A silent auction will be conducted at one of the exhibit booths throughout the afternoon, while live auctions, featuring one-of-a-kind rock collectibles,will be held during intervals between artist performances.
Food trucks will be on site throughout the day. Those participating include Slammin' Sliders, G's Taco Spot, Greenz on Wheelz and Archie's Ice Cream. Sponsors lending their continued support to the Ride For Ronnie are Harley-Davidson of Glendale, Law Tigers and Ninkasi Brewing Company. New sponsors to the event this year include Bigg Time Entertainment and LA's rock radio station, 95.5 KLOS.
Both riders and concert-goers can purchase their tickets by visiting: diocancerfund.org.
Pre-Registration Prices:
$35/rider (includes concert admission)
$10/passenger (includes concert admission)
$25 concert admission only
Day of Event Prices:
$40/rider (includes concert admission)
$10/passenger (includes concert admission)
$30 concert admission only
2017 Ride For Ronnie Motorcycle Ride and Concert and Schedule
Sunday, May 7, 2017
Ride:
9:00am – 10:45am: Rider Check-In & On-Site Registration
9:00am – 10:30am Continental Breakfast
Kickstands up at 11:00am
Harley Davidson of Glendale
3717 San Fernando Rd., Glendale, CA 91204
Concert:
11:30AM – Gates open
11:45AM- 5PM Concert
Los Encinos State Historic Park
16756 Moorpark Street Encino, CA 91436