THIRD ANNUAL "BOWL FOR RONNIE" CHARITY BOWLING TOURNAMENT WILL AUCTION OFF SLOTS ON TWO CELEBRITY TEAMS VIA EBAY NEXT WEEK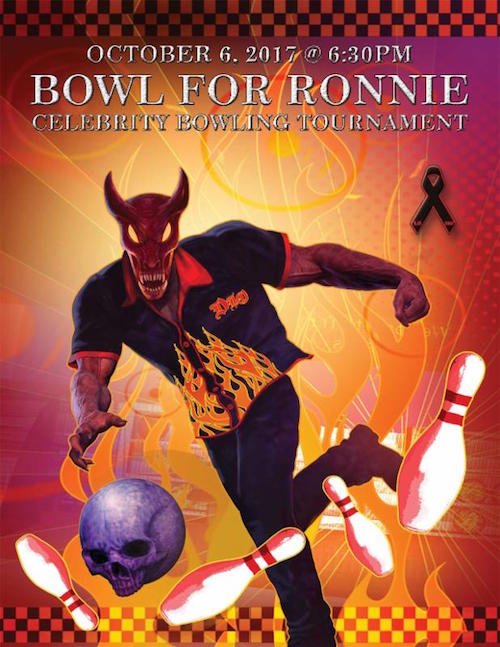 As previously reported, the third Annual Bowl For Ronnie Bowling Party, benefiting the Ronnie James Dio Stand Up and Shout Cancer Fund, will take place on Friday, October 6th, 2017 at the Pinz Bowling Center in Studio City, California.
Competition in the Celebrity Bowling segment is shaping up as Los Angeles' rock radio station KLOS is recruiting a bowling team, captained by drive time deejay Gary Moore, to challenge the team captained by event host Eddie Trunk, whose team took the top prize trophy last year. Last year's Bowl For Ronnie brought in $36,500 for the cancer charity, which is now in its eighth year of raising awareness and much-needed funding for cancer research.
Members of last year's winning team are expected to bowl again this year, among them John 5, Tom Morello, Jeff Scott Soto and Rock Feinstein. Also joining the fun this year will be former Guns N Roses drummer Steven Adler, Doug Aldrich (Dio), Ann Boleyn (Hellion), Vinny Appice (Dio), Sean McNabb (Lynch Mob), Phil Buckman (Fuel), Jimmy Burkhard (Billy Idol), Fred Coury (Cinderella), Robbie Crane and Ricky Warwick of Black Star Riders, Juan Croucier (Ratt), Matt Duncan and Joey Vera of Armored Saint, Shawn Duncan and Rowan Robertson of DC4, Marc Ferrari (Cold Sweat), Dio Disciples members Bjorn Englen, Simon Wright, Scott Warren and Joe Retta, Chris Hager (Rough Cutt), Sonia Harley, Rita Haney, Marty O'Brien, Dave "Chili" Moreno (Puddle of Mudd), Budderside members Colin Reid, Rich Sacco, Michael Stone and Patrick Stone, Brian Tichy (Whitesnake), Chas West, Christine Devine and.comedian Bill Burr.
Individual auctions will launch next week at EBay for places on KLOS' bowling team and on Eddie Trunk's team. The package includes Red Carpet entry to the Bowl For Ronnie, VIP pre-party and bowling with Rock Stars.
Bowl For Ronnie participants can anticipate an evening of fun, food, and, of course, bowling with rockers and celebrities competing for trophies in the name of raising funds and awareness for the Dio Cancer Fund. In addition to the celebrity bowling tournament, there will be several raffle drawings for a variety of items, among them a wine basket, tickets to the 2018 Ride For Ronnie, a signed photo of John 5, and specially-designed bowling balls and bowling pins featuring the Bowl 4 Ronnie artwork. In addition, the host venue, Pinz Bowling Center, has donated a raffle prize of a Pinz VIP Experience Bowling Party valued at $600, comprising two lanes for two hours each plus shoes for up to 10 guests and two hours in the VIP room.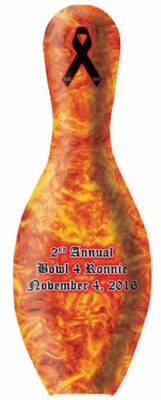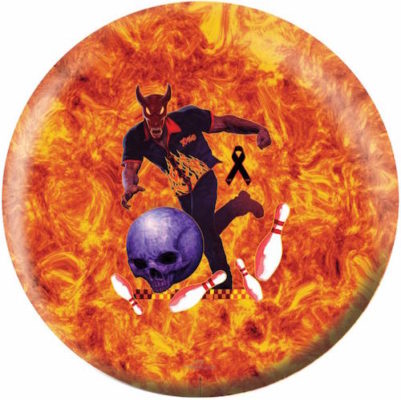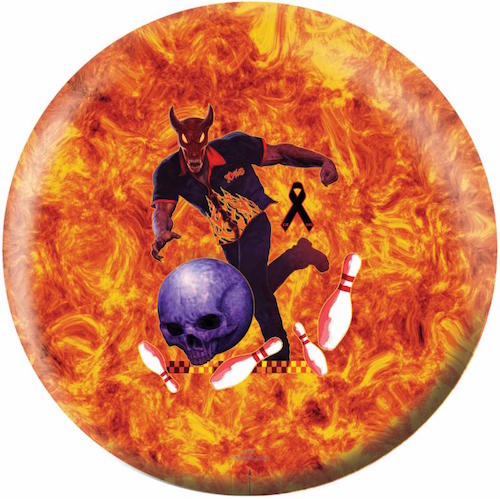 The event begins at 6:30 PM with open bowling and a VIP pre-party for lane sponsors, celebrities and their guests. Celebrity bowling will commence at 9PM, with fierce competition for a variety of trophies.
In additionto competing with his team, radio personality Eddie Trunk will once again host the event. 100% of the net proceeds from the Bowl For Ronnie will go to the Dio Cancer Fund. Individual tickets and lane sponsorships are now on sale, and participants are encouraged to gather friends, family and co-workers for the ultimate bowling team. The Pinz Bowling Center is located at 12655 Ventura Blvd in Studio City, California.
For more information, visit diocancerfund.org/bowlforronnie.
Tickets are now on sale at eventbrite.com/e/bowl-for-ronnie-tickets.
Individual Spectator: $50 per person (includes pizza and general admission)
Individual Bowler: $75 (includes pizza, shoe rental and bowling from 6:30-9PM)
Team/Corporate Lane Sponsorship: $1995 private lane for 6 bowlers (includes team or corporate logo displayed on lane, 6 VIP party passes and access to Artist/VIP lounge, 2 drink tickets per team member, 6 "Bowl For Ronnie" t-shirts, pizza and shoe rental)