THIN LIZZY GUITARIST DAMON JOHNSON DISCUSSES THE BAND, AND WRITING SONGS FOR ARTISTS, SUCH AS, TED NUGENT AND QUEENSRYCHE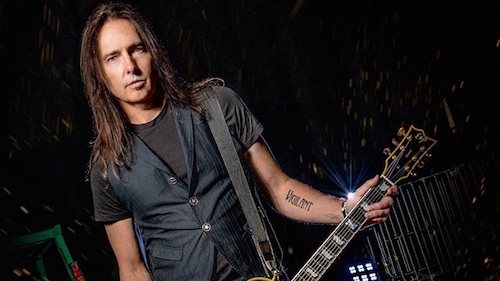 Greg Prato of Brave Words spoke with Thin Lizzy guitarist, Damon Johnson. Portions of the interview appear below.
BraveWords: What can fans expect from the next Black Star Riders album?
Damon Johnson: We feel really confident right now. We've had a great three years of promoting the two albums that we've had out. We've got incredible support in Europe and it's really inspired us. We feel very fortunate to be middle aged classic rock guys that are still getting to make new music that people are listening to and paying attention to. We feel very fortunate that we get a lot of radio airplay in England – BBC Radio 2 has been incredibly supportive of Black Star Riders. We know if we can deliver another quality record that we're going to have a lot of people waiting to listen and support it. And it's a priority for us to do more touring in the United States for this third album. We've very excited about that.
BraveWords: You've written songs for Stevie Nicks, Ted Nugent, Skid Row, Queensrÿche, and Carlos Santana.
Damon Johnson: It's certainly something that I'm very proud of. And I have to tell you, most of those situations kind of came to me. I'd never been that guy that was looking to get co-writes or working the phone. I certainly have a lot of friends in Nashville that that's their everyday life is co-writing and trying to get cuts on other people's records. I was fortunate to have some kind of relationship in each of the instances you just named. I was friends with Ted Nugent – we toured with him with Brother Cane. I've been friends with the Queensrÿche guys for quite some time and they asked me to come and write. And in the case of the Stevie Nicks song and the Carlos Santana song, I was writing songs for myself – I maybe wanted to put them on some kind of a solo record. And I would play them for friends, who would go, "Oh, I know the guy who manages Stevie Nicks. I heard she's looking for songs – let me send this to her." And sure enough, they would call back, and go, "Yeah, we like this song a lot." And the same thing happened with Carlos Santana – Clive Davis heard our song Just Feel Better, and played it for Carlos, who loved it, and Carlos picked up the phone and calls Steven Tyler to sing the lead vocals. It's crazy, man. I'm proud of all those songs, and whenever I perform my solo acoustic stuff, I play a lot of that material. It gives fans a chance to hear how the songs sounded in their original incarnation. I never went in and made some big, over-produced demo of those songs – it was just me and an acoustic guitar.
To read more of this interview, and to find out about Johnson's new solo EP, Echo, please visit Brave Words.
source: bravewords.com