THE WINERY DOGS ANNOUNCE "DOG YEARS: LIVE IN SANTIAGO & BEYOND 2013-2016" And "DOG YEARS" EP DUE OUT AUGUST 4TH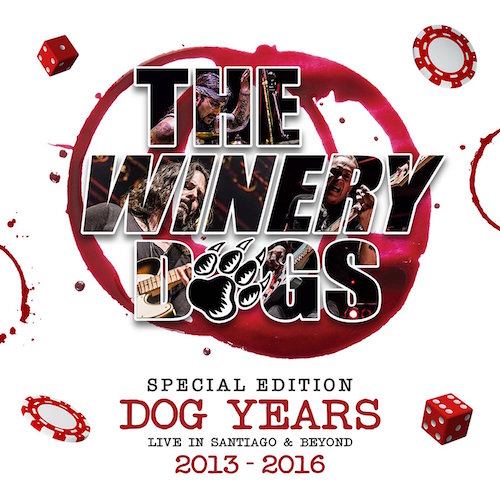 When a new band gets nothing but glowing live reviews right out of the gate for their first two albums, they must be doing something right.
The Winery Dogs–Richie Kotzen (vocals, guitar), Billy Sheehan (bass), Mike Portnoy (drums)—have been mesmerizing live audiences at over 200 shows with their monstrous musicianship since they exploded onto the scene in 2013 with the release of their self-titled debut album.
Now it's time to show fans, old and new, what people have been saying about The Winery Dogs since their first worldwide tour launched in 2013. Dog Years: Live In Santiago & Beyond 2013-2016, which will be available in both standard and deluxe editions, is a collection of live concert footage, music videos, and an EP of previously unreleased studio tracks, is due out August 4th on Loud & Proud Records. Pre-orders are available now on Amazon for the deluxe and standard editions. A trailer can be seen on below.
A standard two-disc edition of Dog Years: Live In Santiago & Beyond 2013-2016 will be available which includes one Blu-Ray disc of the 100-minute concert, eight music videos from the band's two albums, and the Dog Years EP on CD. A special edition five-disc package will consist of one Blu-Ray disc, one DVD of the live concert material and the eight music videos, the Dog Years EP on CD, as well as two CDs of the live concert audio.
Here's the complete track listing of the Dog Years: Live In Santiago & Beyond 2013-2016:
Live In Santiago:
1. Oblivion
2. Captain Love
3. We Are One
4. Hot Streak
5. How Long
6. Time Machine
7. Empire
8. Fire
9. Think It Over
10. Mike Portnoy Drum Solo
11. The Other Side
12. Billy Sheehan Bass Solo
13. Ghost Town
14. I'm No Angel
15. Elevate
16. Regret
17. Desire
Music Videos:
Elevate
Desire
Time Machine
I'm No Angel
Oblivion
Captain Love
Hot Streak
Fire
Dog Years EP:
1. Criminal
2. The Game
3. Solid Ground
4. Love Is Alive
5. Moorage Daydream
The Winery Dogs online: