ALTER BRIDGE SET TO RELEASE "LIVE AT THE O2 ARENA + RARITIES" WORLDWIDE ON SEPTEMBER 8TH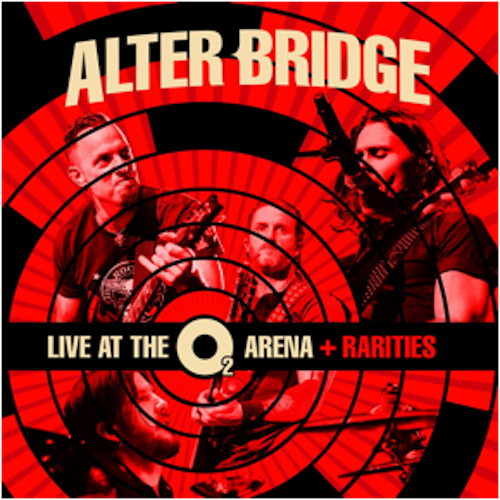 Coming off their most-successful world tour to date, Alter Bridge announces the release of a new live album and rarities collection. Live At The O2 Arena + Rarities is scheduled for worldwide release on September 8th through Napalm Records. One of the biggest moments of the band's career was the monumental show at London's famous O2 Arena on November 24th, 2016. That landmark performance is now captured in its entirety on two CDs. The 19-track recording documents what an enormous presence Alter Bridge have become on concert stages around the world. The album can be preordered here.
Myles Kennedy, Mark Tremonti, Brian Marshall, and Scott Phillips tear through hits like Farther Than The Sun, Show Me A Leader, Rise Today, and their masterpiece Isolation, showcasing a band on the top of their game. Other highlights include the Tremonti sung Waters Rising, the acoustic-driven Watch Over You and their mighty signature anthem Blackbird.
In addition, this latest release contains an exclusive full-length "Rarities"-CD that will give every collector cause for rejoice. The CD features the never-before released tracks Cruel Sun and Solace that were recorded during the One Day Remains sessions. The song Breathe from those same sessions was released as a bonus track exclusively for Best Buy on The Last Hero. These tracks join seven other songs that have only been released in Japan until this collection.
This incredible collection of Alter Bridge gems will be released in xxx different formats. In addition to the regular three CD audio version, you can go for the ultimate fan experience and get one of the limited deluxe versions which also include an exclusive documentary with plenty of interviews with the band, their crew and family, giving you an amazing glimpse behind the scenes of this legendary show at London's O2 arena! View the trailer below.
Live At The O2 Arena + Rarities track listing:
CD1:
1. The Writing on the Wall
2. Come to Life
3. Addicted to Pain
4. Ghost of Days Gone By
5. Cry of Achilles
6. The Other Side
7. Farther Than the Sun
8. Ties That Blind
9. Water Rising
10. Crows on a Wire
11. Watch Over You
(solo acoustic)
CD2:
12. Isolation
13. Blackbird
14. Metalingus
15. Open Your Eyes
16. Show Me A Leader
17. Rise Today
18. Poison in Your Veins
19. My Champion
CD3″
1. Breathe
2. Cruel Sun
3. Solace
4. New Way To Live
5. The Damage Done
6. We Don't Care at All
7. Zero
8. Home
9. Never Borne To Follow
10. Never Say Die (Outright)
11. Symphony Of Agony (The Last of Our Kind)
The band is kicking off their European tour on June 3rd and it will run through July 7th. If you want to experience the Alter Bridge live force on stage yourself, make sure you catch them on one of the following dates all across Europe this summer! They will blow you away!
Alter Bridge European Tour Dates 2017:
June:
6 NL – Tilburg / 013
14 CZ – Prague / Forum Karlin
20 IE – Dublin / Olympia
21 UK – Belfast / Ulster Hall
24 DE – Leipzig / Haus Auersee
29 ES – Madrid / Auditorio M. Rios
30 ES – Bilbao / Miribilla
Festival shows:
June:
3 DE – Nuremberg / Rock im Park
4 DE – Nurburgring / Rock am Ring
8 SE – Solvesborg / Sweden Rock
10 FR – Paris / Download
11 UK – Donington / Download
15 AT – Nickelsdorf / Novarock
17 BE – Dessel / Graspop
18 FR – Clisson / Hellfest
23 DK – Copenhagen / Copenhell
26 LU – Luxembourg City / LuxExpo
July:
2 ES – Barcelona / Rock Fest
5 IT – Rome / Rock in Rome
6 IT – Milan / Market Sound
7 CH – Pratteln / Summernights
Alter Bridge line-up:
Myles Kennedy on vocals/guitars
Mark Tremonti on guitars/vocals
Brian Marshall on bass
Scott Phillips on drums
For more information about the band, please visit alterbridge.com or facebook.com/alterbridge.