THE METAL GOD, ROB HALFORD IS CURRENTLY WORKING ON HIS MEMOIR AND SAYS, "THERE'S NO POINT IN PUTTING A BOOK TOGETHER IF YOU DON'T HAVE FULL DISCLOSURE"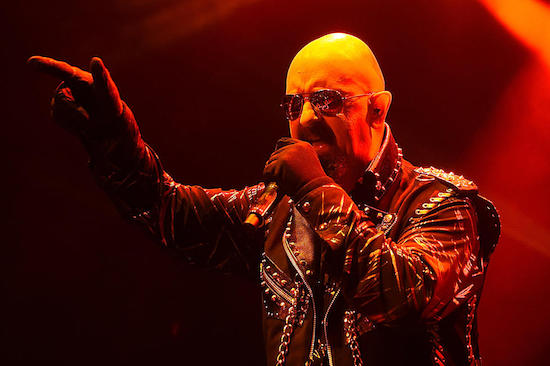 Matt Wardlaw of Ultimate Classic Rock reports:
Judas Priest singer Rob Halford says work on his upcoming memoir is "underway." He first revealed plans for the book nearly a year ago; he tells UCR fans can expect it to be an honest look back at his life.
"There's no point in putting a book together if you don't have full disclosure, in my opinion," he says. "Since I've been clean and sober, I've probably been more honest and truthful about myself than I ever have been. You only get a chance to do it once and do it properly…"
…"I don't want it to be an autobiography — I want it to be more of a memoir," he explains. "It's going to have a lot of things in there that you're going to go, 'Oh, I'm not really interested in that.' You're also going to go, 'Oh my God, I never knew he did that.' But it's going to make you feel happy, it's going to make you feel sad. It's going to make you feel angry, it's going to shock you. It's going to have all of the things that I think have been in most people's lives…"
Right now, he's still basking in the glow of the positive reception to Firepower, Judas Priest's 18th LP that came out in 2017. "With any album, you just don't know what the reaction is going to be," he says. "You just have to go in the studio with all of the right intentions and beliefs and work really, really hard to make it happen. We do that for every Priest album. I don't know what it is — it was just that everything was right. Everything felt right. All of the pieces were in the right place. The writing that came from Glenn [Tipton] and Richie [Faulkner] and myself was just at a really strong level."
Read more at Ultimate Classic Rock.
In recent Halford news, the Metal God's forthcoming Christmas album, Celestial, will be released October 18th via Legacy Recordings.
Credited to Rob Halford with Family and Friends, the album mixes holiday classics with all-new compositions, and will appeal to lovers of traditional holiday music and headbangers alike. 
To read all about this special release, and to watch a video for the song, Donner and Blitzen, please click here.