THE METAL GOD REVEALS THAT JUDAS PRIEST HAS BEEN IN TOUCH WITH FORMER MEMBERS, K.K. DOWNING AND LES BINKS, REGARDING THE BAND'S FORTHCOMING ROCK HALL INDUCTION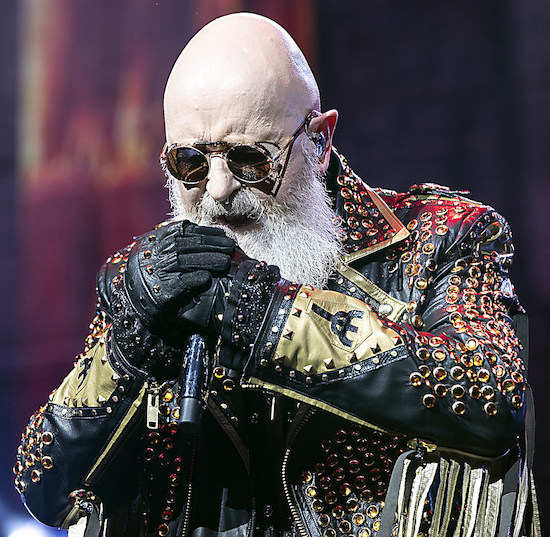 Bryan Rolli of Ultimate Classic Rock reports:
Rob Halford confirms that the recording is finished for Judas Priest's new album, with the exception of his vocals…
…He says the band once again worked with Firepower co-producer Andy Sneap, who has also served as the band's touring guitarist since 2018 when Glenn Tipton's Parkinson's disease forced him off the road…
…Judas Priest will also be honored at this year's Rock & Roll Hall of Fame induction ceremony, where they will receive the Musical Excellence Award. Their team has been in touch with former guitarist K.K. Downing and former drummer Les Binks — both of whom are also being inducted — and Halford says "everybody's been very cool and agreeing. There's just been [an attitude of], 'Let's just relish this opportunity and jam and put everything on 11.'"

Neither Halford nor Judas Priest's representatives could confirm yet whether Downing, or Binks, will be joining the band onstage during its Rock Hall performance, but Halford says both former members will be involved in some capacity, as well as late drummer and fellow inductee Dave Holland.
"We are gonna play live because there is all this roar: How are we gonna do it? Because we want to try and make the best things happen," the singer says. "So the best things to happen are to bring in all of the people that are included in the induction — which includes, obviously, K.K. and Les, and Dave. So, we've been able to work things out, so we will be playing live. We've got, like, eight minutes and 24 seconds and a half-second to play live."

He adds, "We've got a couple of cool things that are gonna take place on the night that will be held under wraps like most people do because you don't want to give everything away. But yeah, look: A bunch of guys from the U.K., from the West Midlands, a Birmingham band of heavy metal, is being inducted into this great institution. So we're gonna make the most of it and have a great night out and live a lot of metal memories."
Aside from his Judas Priest itinerary, Halford has also kept busy with the preparation of his second book, Biblical: Rob Halford's Heavy Metal Scriptures, which comes out on November 1st. It iis available for preorder now, and features opinions, and anecdotes, on all aspects of the rock 'n' roll lifestyle – including touring, tattoos, drugs, devil horns and more.
Read more at Ultimate Classic Rock.