THE KULICK BROTHERS TEAR UP "KISS KRUISE VII"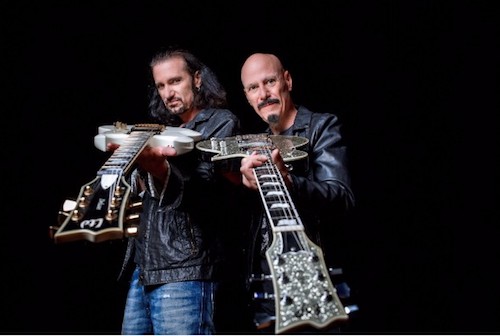 History was made last week in the world of KISS, arguably the biggest rock band in the world, when brothers Bob and Bruce Kulick joined the KISS Kruise for the first time in the seven years the getaway has taken place.
"Our appearance on KISS Kruise 7 the first night on the Main Deck ("Sail Away " Stage) was one of our most exciting and memorable gigs in my life," says Bob. "And I know my brother feels the same way about it."
Just hours after the performance, the internet lit up when Kruise passengers began posting and sharing live video of the Kulick Brothers' show, which overwhelmingly was regarded as the strongest of the week (see some video posted, below).
The band (also comprised of vocalist / bassist Todd Kerns and drummer Brent Fitz) had one rehearsal and one chance to put a set list together for the show. "It was a very personal walk down memory lane," Bob states. "Especially with these songs, since we played on the original recorded versions of every one of them."
"It was, of course, also a treat to play with Brent Fitz, who was our anchor for the show as well as bassist and vocalist Todd Kerns, who happens to be the singer on my single, Rich Man, which just went to radio this week."
Bob and Bruce Kulick set list from KISS Kruise VII
1 All American Man
2 Hide YouHeart
3 Wouldn't You Like to Know Me
4 Domino
5 Larger Than Life
6 Tears are Falling
7 Nowhere to Run
8 Tough Love
9 Tonight You Belong to Me
10 Who Wants to be Lonely
11 Crazy Nights
12 Turn on the Night
13 Goodbye
Bob Kulick's Skeletons in the Closet is available here and on iTunes now.
Check out Bob Kulick online at facebook.com/BobKulickMusic.