THE HUFFINGTON POST REPORTS: A HAIR NATION UNITED: HOW GLAM METAL HAS THRIVED PAST THE 1980'S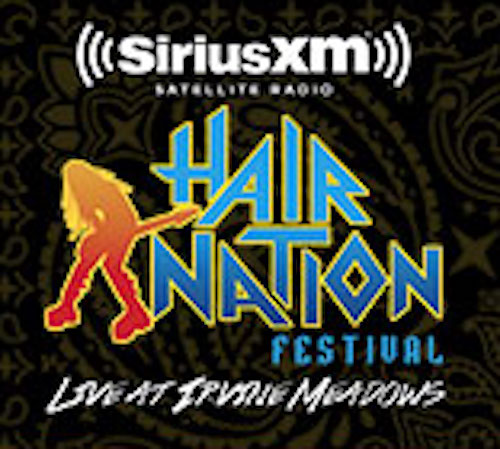 Michael A. Moodian of the Huffington Post reports:
Eddie Trunk is one of American hard rock radio's most recognized voices. The New Jersey native, an industry veteran for decades, launched the country's first heavy metal and hard rock radio show (in 1983), managed rock stars, was vice president of Megaforce Records, and was the host of VH1's That Metal Show. His latest program Trunk Nation with Eddie Trunk, airs on Hair Nation and Volume, Sirius XM stations. Trunk is the definition of a rock 'n' roll guy.
Hair Nation features 1980s bands such as Mötley Crüe, Dokken, and Cinderella, groups whose most commercially successful period occurred approximately 30 years ago. While Ronald Reagan sold arms to Iran to fund the contras' effort in Nicaragua, ignored the AIDS epidemic, and cut aid to the poor, Def Leppard, Poison, and Ratt dominated the radio airwaves and MTV. These acts, also known as glam or lite metal bands, have become labeled—perhaps affectionately, perhaps jokingly—hair bands in reference to the hairstyles they proudly displayed during a time of Nintendo Entertainment Systems. Hair bands are known for outlandish perms, big bangs, backcombing, and lots of hairspray.
Despite the fact that glam rock is decades removed from the mainstream, Trunk's show and others on the station are very popular and widely listened to. "This music has become a new generation's classic rock. As much as in some areas it's still marginalized it can't be denied it impacted a massive amount of people," said Trunk. "These artists sold millions of albums and lived on TV screens on MTV. If you are between 40 and 50 years old this is what you grew up with, and it's being celebrated by those people as well as their kids who are discovering it through their parents…"
…Glam metal's best were featured at a September music festival in Irvine, Calif., titled the Sirius XM Hair Nation Festival. The concert included notable acts such as Mötley Crüe's Vince Neil, Poison frontman and The Celebrity Apprentice participant Bret Michaels, Slaughter, Lita Ford, the great Yngwie Malmsteen, and many more.
"Hair Nation really set the table nicely, honoring 20 national acts to play day and night for tens of thousands of people. It brought us back to the days of playing sheds and arenas following around Guns N' Roses and Skid Row," Chip Z'Nuff, lead vocalist and bass player for Enuff Z'Nuff, said.
What struck me about Hair Nation was that this style of music has not been considered mainstream for at least 25 years, yet there is still significant demand to see these bands perform, as thousands attended the festival.
"It does not surprise me as all those bands collectively have sold over 100 million records. It shows the power of MTV/VH1 Classics and rock radio who played these bands every day in front of massive audiences and Sirius XM radio who supports rock every day," shared Z'Nuff.
"The music is timeless. Metal and hair metal have so many hooks, like really great popular music through the years. People have so many memories associated with each album and song. Like any great music genre, it stands the test of time," stated Joe Truck, guitarist of Circus of Power, one of the festival's performing acts. "I'm a fan of music and it's truly a blessing that fans still support this genre of music," added Kristy Majors, guitarist of Pretty Boy Floyd, also a festival act. "Niche music will never lose a fan base. It's a particular lifestyle and sound that transcends to younger generations."
A separate but related takeaway is that glam's popularity in the mid-1980s to early-1990s represented the last time in the United States that musicianship was truly valued by the masses. This does not mean that there was not quality work to emerge from grunge, mainstream alternative rock, and nu metal of the 1990s. But it is hard to deny that the guitarists, drummers, and bassists of the glam movement are immensely talented at their respective instruments. That is simply not the case with contemporary mainstream bands, as one rarely even hears guitar solos when listening to new rock music on the radio.
Trunk opined, "I feel every era had some great moments; however, the eighties may have been the last era of the rock stars. And without question some amazingly talented artists came from that time and are still great at what they do." He elaborated, "But as long as they keep getting put into this 'hair' branding people sadly can't see beyond it. The impact of MTV cannot be overstated when talking about this genre. It broke many of these acts, but it also left people thinking of the visual of the time almost more than the quality of the songs and playing."
Trunk hates the term hair band. "I honestly think it's ridiculous and I also think many forget it is an offensive and derogatory term to describe this era of music as style over substance… I think every era has its signature look and sound, and every era has good and bad bands," the broadcast veteran said. "I do feel some of the movement of new rock I am hearing is clearly a throwback and influence from the eighties. Again the people who grew up with this music now have kids 20 years old and they grew up on their parents' music. I see more and more attempting to start bands in the spirit of this music."
Read more at the Huffington Post.
source: huffingtonpost.com