THE HOUSTON PRESS: EDDIE TRUNK: NO LONG HAIR, NO TATTOOS…BUT HE STILL ROCKS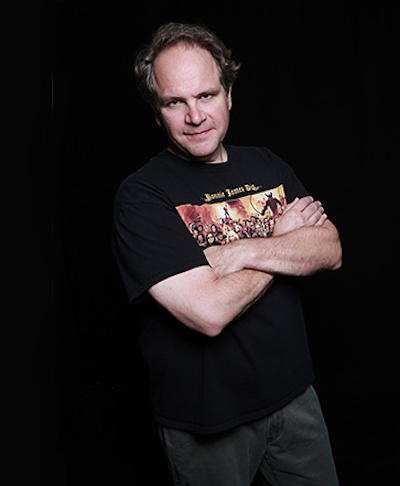 Bob Ruggiero of the Houston Press reports:
There were more than a few curious looks over their cheeseburgers and quesadillas for the office workers and businesspeople having lunch at Houston's House of Blues one afternoon last week. Meanwhile, technicians uncoiled cables connected to sound equipment and a laptop computer at a table on the small stage in front of the dining area.
In front of the laptop – and trying to navigate a pesky sound problem that would thankfully be solved before his live radio broadcast started 15 minutes later – was Trunk Nation host Eddie Trunk. Said program is broadcast daily to tens of thousands of listeners across North America on SiriusXM's all-music/talk Volume channel (Ch. 106).
If you don't know Eddie Trunk, think of him as the Headbanging Walter Cronkite — he most trusted name in hard rock and heavy metal journalism, without the mustache. And a busy one as well.
In addition to hosting Trunk Nation, he has another music show on Sirius, a syndicated weekly show on terrestrial radio, and a podcast. He's also an author (two volumes of music guides and a memoir on the way); TV host; and a frequent emcee on rock and metal boat cruises, festivals, and private events.
It's that last job that brought him back to Houston, where he also hosted a private party and concert at the House of Blues later that night featuring Vince Neil (Motley Crue), Dee Snider (Twisted Sister), Stephen Pearcy (Ratt), Robert Mason (Warrant), some members of the band Slaughter and former Eagle Don Felder.
But first came the first of two live broadcasts from the HOB dining room, where it was easy to tell who had come to see Trunk and his famous guests Snider (hands-down the most engaging and hilarious), Pearcy and Mason.
Or was it?
"There's five or six people that came up to me after the show that in [a] million years by how they look you wouldn't think were fans of this music. But it stays with you for life, and they are passionate about defending it," Trunk says from a side booth after the two-hour broadcast ends.
"Hard rock and heavy metal have always been marginalized and looked down upon," he continues. "I remember when I was in school, I was made fun of for liking it. I was not invited to the parties, and I was an outcast. But it's way more popular than it's been given credit for. I rally against the stereotypes that are into the music, and I even have a new bumper on my radio show that says, 'No long hair, no piercings, no tattoos…but he still rocks.'"
Trunk's return to Houston – like his previous visits over the past few years – has been via local promoter John Escamilla of Jetspeed Productions. He first booked Trunk to do two talks a few years back that were far more successful than either man had anticipated. "John has become a friend because he's brought me here, and we keep in touch," Trunk notes. A later show where Trunk hosted the Houston debut of hard-rock supergroup The Winery Dogs was also successful…
…He is for now focusing on two…TV projects: a one-on-one interview show, and an upcoming travel/music series in which he goes to music festivals around the country…
…Trunk has always been supportive of two particular bands from the Lone Star State, especially one from Houston. "I have a personal connection to King's X. I was working for Megaforce Records when they were signed and I remember like yesterday their demo coming into the office. They never sold what they should have, and they are criminally overlooked and under appreciated on a global scale."
And then for an act a little farther north from Arlington. "Pantera was extremely influential, but they also sold millions of records," he says. "What doesn't get talked about enough about that band is that when you looked at the early and mid-'90s, they were it. It was brutal to make it as a metal band in that era, but they were defiantly metal in that time. They carried the flag for metal."
Listeners to Trunk's shows know that there are two topics sure to get his blood boiling. One is the seeming exclusion of hard-rock and heavy-metal acts from the Rock and Roll Hall of Fame. So if he were given a magic inductee card, which band would he present it to?
"Judas Priest," he says, after thinking for a few seconds. "I know that lots of people push back and say 'Iron Maiden,' and I think they should be in too, but Judas Priest has been doing it longer and Maiden used to open for Priest. To me, after Black Sabbath, Judas Priest is the most important band in metal history."
Read more at the Houston Press.
source: houstonpress.com