THE DEAD DAISES' GLENN HUGHES AND DOUG ALDRICH DISCUSS THE DEPARTURE OF DRUMMER DEEN CASTRONOVO AND HIS REPLACEMENT TOMMY CLUFETOS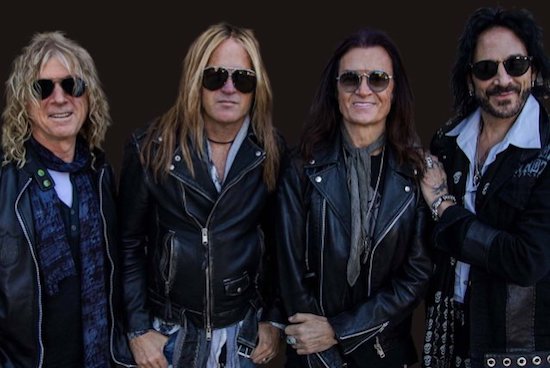 The Dead Daises' singer/bassist Glenn Hughes and guitarist Doug Aldrich were guests on Eddie's Sirius/XM show on February 2nd, Trunk Nation, where they discussed the recent departing of drummer Deen Castronovo two days after the band's' publicist revealed that Tommy Clufetos will rejoin the band, if and when, they hit the road in support of their new album, Holy Ground.
Aldrich told Eddie [via blabbermouth.net], "Deen was having a hard time with some back problems. We got together and played in October of last year, and he was struggling — he was having a hard time. And he just said, 'Look, guys, I need to get some work done, and it's gonna put me out of business for a little bit. I know you guys wanna move fast and you've got plans to do things.' So he decided to do that."
Hughes added, "[Deen] sang on a couple of [Holy Ground songs] with me. I would have liked to have had Deen sing more. We have a great blend together, and you can hear it. It's such a shame that he's not with us. But we have to continue. And Tommy was the guy."
When discussing Clufetos Aldrich said, "Tommy's an incredible player, I'm so excited to hear him and Glenn together. It's gonna be amazing."
When asked if he has ever played with him before, Hughes stated, "I have not. I've met him a couple of times at Geezer's [Butler, Black Sabbath bassist] house. I've seen him play on YouTube, of course."
Added Aldrich, "I haven't played with him, but I've watched him a lot, especially since him signing up. And, man, it's such a small world, that Glenn played with Tony [Iommi] and Tommy's played with Tony, and that feel is very important, and Tommy's got it. I think it's even gonna be a step deeper with Tommy."
Continued Hughes, "I think it's gonna be way heavier. With all due respect to Deen, who I love, Tommy is meat and potatoes. For me, I'm a [John] Bonham fan, so I've gotta have the meat and potatoes behind me."
The Dead Daisies released Holy Ground on January 22nd, listen to the first single Holy Ground (Shake The Memory), here.