THE CIRCLE, FEATURING HAGAR, ANTHONY, BONHAM, JOHNSON, TO RELEASE "SPACE BETWEEN" ON MAY 10TH, STREAMING NEW SONG "TRUST FUND BABY"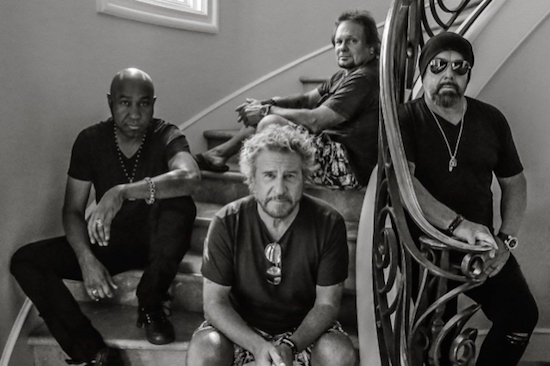 The Circle, Sammy Hagar's critically acclaimed supergroup also featuring Michael Anthony, Jason Bonham and Vic Johnson, will release its first album of all-original material, Space Between, on May 10th through BMG. The first single, Trust Fund Baby, can now be streamed below.
Hagar said, "Play it on whatever system suits you and crank it up, it f–king rocks like the rest of the album!"
With the upcoming release of, Space Between, the band harnesses the depth of their artistic experiences and seminal collaborative sound with Hagar's prolific writing vein to produce an album that builds and explodes, song after song, around the concepts of money, greed, enlightenment and truth. Formed in 2014, the acclaimed supergroup featuring Rock & Roll Hall of Fame inductees Sammy Hagar and bassist Michael Anthony, drummer Jason Bonham and guitarist Vic Johnson, quickly established themselves as one of the most emphatic and exciting live acts on tour today, seamlessly ripping through career-spanning hits from Montrose, Van Halen, Sammy Hagar and The Waboritas and Led Zeppelin. 


The band will mount a large-scale tour of North American, in support of the new album, in the Spring of 2019. Space Between tour itinerary, album track listing and more will be revealed beginning February 4th.
BMG signed a worldwide label deal with Sammy Hagar & The Circle for the new album, Space Between, and will also include select Hagar catalog titles.
Lyrically and musically, the collection of songs on the album build from intimate and introspective eye-openers to heart-pumping anthems. The music draws on the bands' substantial careers independently and collaboratively; presenting a veteran band still at the peak of their game.