"THAT METAL SHOW" RETURNS TO NEW YORK FOR SEASON 13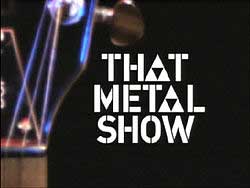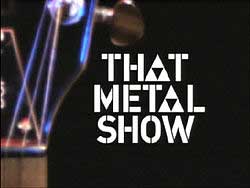 VH1 Classic's centerpiece in original programming That Metal Show is returning for its 13th season this January.
The acclaimed hard rock/heavy metal talk show, hosted by Eddie Trunk, Don Jamieson and Jim Florentine, kicks off the latest season on January 18th, 2014. This season will mark some monumental changes for the show as it returns to New York City for Season 13. Previously, the show was taped over several days of one week out at Sony Studios in Los Angeles. The new season will be shot at Metropolis Studios on Tuesday nights for broadcast that Saturday. Season 13 will also consist of 12 new episodes making it the longest season in the show's history. Fans can also catch the complete season 12 and brand new exclusive bonus clips at ThatMetalShow.VH1.com and in the new VH1 app.
Eddie Trunk declares, "I'm thrilled that the show is coming back. But I'm really excited that we're now shooting on a weekly basis, as fans will now have the opportunity to see the new episodes as soon as they are completed."
That Metal Show succeeds because of the interplay of the hosts with their esteemed guests who are some of the biggest names in music. The segments that fans have come to know and love from the show will return for Season 13 including TMS TOP 5, The Throw Down, Put It On The Table, and the fans favorite, Stump The Trunk. The set will also be graced by rock and metal legends that will perform as one-man house bands throughout each new episode. A list of upcoming guests for the interview and performance segments will be released in the near future.
That Metal Show premiered on VH1 Classic in November 2008 and since then has become the only place for all things hard rock/heavy metal on cable television. The show has been visited by some of the biggest names in music including members of Black Sabbath, Aerosmith, Pantera, Anthrax, Kiss, Iron Maiden, Metallica, Pearl Jam, Queensrÿche and Heart to name just a few.