TESTAMENT'S CHUCK BILLY ON THRASH MUSIC: "THE 90's WERE TOUGH"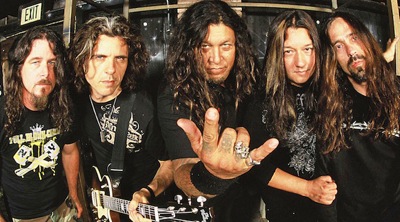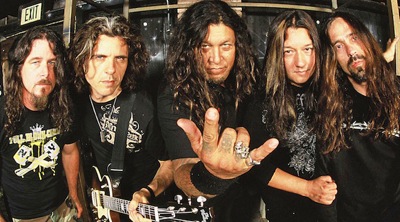 Ruben Mosqueda of Metal Titans spoke with Testament's Chuck Billy. Portions of the interview appear below.
MetalTitans: I can't recall a time that Testament has done as much touring as you've done behind Formation of Damnation and Dark Roots of Earth.
Billy: We've been very busy over the past few years that's for sure. That's a good thing for us. In the 90s thrash died off a little bit. Major labels lost interest in this kind of music. It was a little tough. MTV stopped playing videos which meant no airplay for us—the 90s were tough.
MetalTitans: You're about to embark on a pretty big tour in the next few weeks.
Billy: Yeah, next month we head out with Lamb of God. We've been talking with the guys from Lamb of God for a number of years about going out with them—it hadn't panned out. When this opportunity came up we were available and I think they've put together a great package.
MetalTitans: You'll be issuing a live DVD and dual CD set for those that haven't seen it how does Dark Roots of Thrash compare to the Live in London DVD and CD set that you issued in 2005?
Billy: I think people will be very pleased with the new DVD. Dark Roots of Thrash and the Live in London DVD are like night and day because that's heavy on the classic stuff because that's what the guys wanted to play. They wanted to play stuff that they recorded which was understandable. We've been back together for about seven years now. We've been playing stuff off The Gathering and of course we've written Formation and Dark Roots and I think it's heavier and really captures what Testament is all about now. I really think we all have a grip on the direction that we're going with the band. I think this DVD is very impressive because we didn't put much effort into the Live in London DVD. We didn't put much effort in the mixing of the audio or the visual aspects of the DVD. We all put in our opinion on what we wanted to see and we were hands on during the editing of the DVD. When people see it they'll be floored because it's very powerful.
Read more at Metal Titans.
source: metaltitans.com