TESTAMENT TO RELEASE "BROTHERHOOD OF THE SNAKE" IN THE FALL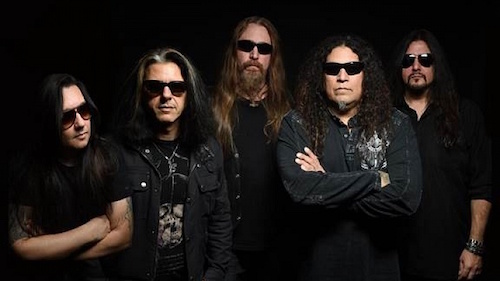 Testament guitarist Eric Peterson has confirmed that their 11th album Brotherhood Of The Snake will be released in October.
He says they finished recording the album before they headed out on their current European tour and reports fans can expect an "epic" record.
Peterson tells Metal Maniac Video Magazine, "The new record will be out on October 28th. It's finished, recorded, done and now on its way to Andy Sneap to get mixed."
Asked what fans can expect from the follow-up to 2012's Dark Roots Of Earth, Peterson says, "Really good metal – it's going to be a really good record.
It's very diverse, epic – there's nothing on there that breathes commercial and I think for 30 years of recording music and trying different formulas, I think we've found a formula that is very metal."
Earlier this year, Testament frontman Chuck Billy said the Brotherhood Of The Snake was inspired by the connection between religion and aliens.
additional source: Metal Hammer via teamrock.com