TESLA TO RELEASE "MECHANICAL RESONANCE LIVE!" ON AUGUST 26TH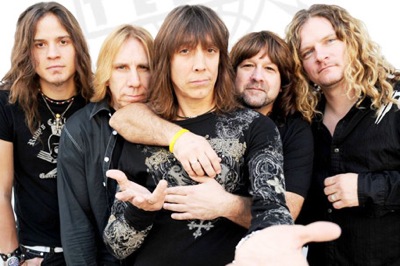 On August 26th, California rockers Tesla will release Mechanical Resonance Live!, a live recording of their classic album, celebrating the original multi-platinum record's 30th birthday in style. With a few surprises up their sleeve, including the single Save That Goodness written and produced by Phil Collen of Def Leppard, and will be made available via Tesla Electric Company Recordings/Mailboat. The record is being released in conjunction with Tesla's summer tour opening up for Def Lepard, where they will perform in front of over half a million fans.
Said Tesla guitarist Frank Hannon, "30 years later and the songs on our first album still rock. Making this new live album of Mechanical Resonance was a reminder of the innocence and creative beginnings of Tesla."
Adds Tesla bassist Brian Wheat, "It was a lot of fun to re-visit some of the songs we hadn't played in decades and had a great time recording it. "
Over the course of their thirty-year career, which started in 1986, the iconic Sacramento melodic hard rock quintet — Frank Hannon [guitar], Brian Wheat [bass], Jeff Keith [lead vocals], Troy Luccketta [drums], and Dave Rude [guitar] — has sold more than 25 million albums worldwide and played to sold-out crowds across the globe.
The 21st century has become something of a renaissance for Tesla. Most recently, 2014's Simplicity bowed at number 14 on The Billboard 200. The group ignited ABC's Jimmy Kimmel Live! in addition to scorching stages at festivals such as Rocklahoma, Graspop Metal Meeting and Sweden Rock Festival as well as the cruise Monsters Of Rock. As they prepare to cut their ninth full-length album with Phil Collen in the producer's chair, Tesla takes another monumental leap forward as they glance back on "Mechanical Resonance Live!"
Mechanical Resonance Live! track listing:
1. Rock Me to the Top (live)
2. Ez Come Ez Go (live)
3. Gettin' Better (live)
4. Comin' Atcha Live (live)
5. Changes (live)
6. Before My Eyes (live)
7. 2 Late 4 Love (live)
8. We're No Good Together (live)
9. Love Me (live)
10. Cover Queen (live)
11. Lil' Suzie (live)
12. Modern Day Cowboy (live)
13. Save That Goodness (bonus studio track) (written/produced by Phil Collen)