TESLA, RATT, CINDERELLA, JAKE E.LEE, WINGER, SLAUGTHER, THE WINERY DOGS, AMONG OTHERS ANNOUNCED FOR THE MONSTERS OF ROCK CRUISE 2014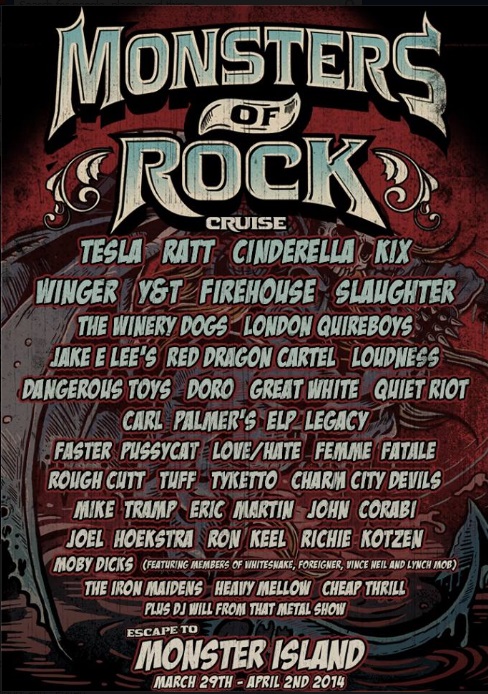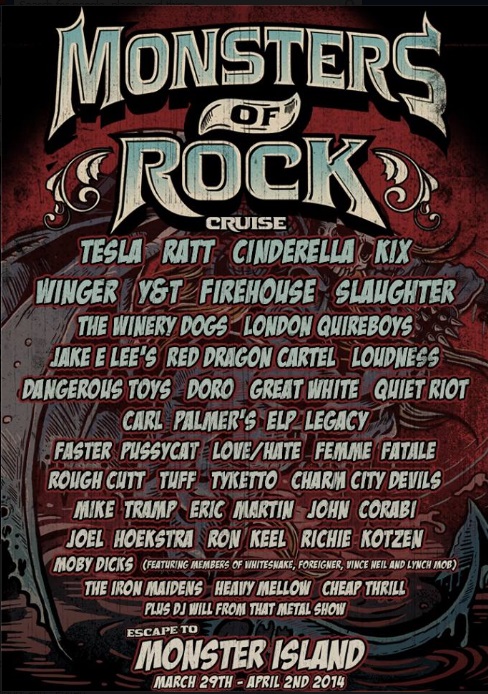 The Monsters of Rock Cruise Team has announced the following about the Monsters of Rock Cruise, Escape To Monster Island set to sail on March 29th-April 2nd 2014.
"First of all, we have announced quite a few artists with more to come. We hope you are as excited about the lineup as we are! The cruise is March 29th-April 2nd, 2014, visiting Nassau and Monster Island. Regarding Nassau, we are working on additional details regarding our Nassau stop. We have good reason to go there so be patient as the cruise unfolds over the weeks to come. As far as Monster Island is concerned, we are planning something very cool and can not divulge details until we are closer to sailing. We can tell you this…this will be a day to remember at a very special destination. We think it is the coolest place we have visited thus far, so be patient Monster Cruisers, we've got your back!
Our ship is the new MSC Divina and she is spectacular! It will provide us with more entertainment options and other special features we are preparing especially for you. We just returned from Europe and were blown away by the awesome beauty, bars and stage layouts on this incredible vessel. Once again, your Monsters of Rock Cruise Team will not miss a thing…bigger, better and badder than ever!
As far as pricing, double occupancy rates will be similar to last year, starting about $900 per person. This price includes meals, entertainment, activities and much more, however, does not include gratuities, taxes and fees, which should be around $200 per person. Optional dining restaurants, drinks, spa services, gift shop and other discretionary purchases are additional. Finally, we will offer special discounted drink packages, which will offered as we approach the sailing date.
Once again we thank all of you for your interest in the 2014 Monsters of Rock Cruise. We will make history together, taking the greatest floating metal experience to new heights. Wish we could tell you more but we would have to…you know the rest!!
Also, once again, our very own Eddie Trunk will be hosting the festivities.
For more information, please visit monstersofrockcruise.com.